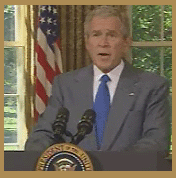 On Monday morning, June 30th, 2008, President Bush signed into law the Post-9/11 Veterans Education Assistance Act of 2008. A new, more generous GI Bill, offering educational benefits similar to that offered to World War II veterans, has been realized.
For more than a year, supporters of a modern GI Bill have struggled to ensure post-9/11 veterans receive the educational benefits they have earned. A special thanks goes out to all who participated in the fight, including: Iraq and Afghanistan Veterans of America (IAVA), Senator Webb and hundreds of other lawmakers, and tens of thousands nationwide who made phone calls, wrote letters, and signed petitions calling for the passage of the new GI Bill.
This extraordinary news means substantial increases in educational benefits for more than 1.6 million Americans who have served on active duty since September 11, 2001. Post-9/11 GI Bill benefits will provide the amount of tuition and fees charged, not to exceed the most expensive in-State public institution of higher education (paid to school); a monthly housing allowance (paid to veteran); and a yearly books and supplies stipend of up to $1000 per year (paid to veteran). Post-9/11 GI Bill benefits are payable for training pursued on or after August 1, 2009.
To download a VA brochure Click Here.