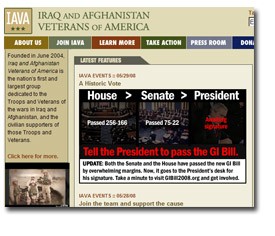 "[The GI Bill] gives emphatic notice to the men and women in our armed forces that the American people do not intend to let them down." -Roosevelt
In 1944, President Franklin Delano Roosevelt signed the original GI Bill; it was called the "Servicemen's Readjustment Act". The World War II GI Bill covered tuition, fees, and books, and gave veterans a living stipend while they were in school. Eight million combat veterans returning home from Germany and Japan were able to afford an education and a 1988 Congressional study showed that every dollar spent on educational benefits under the original GI Bill added seven dollars to the national economy in terms of productivity, consumer spending, and tax revenue.
Current educational benefits offered to veterans are far lower than the original GI Bill. Servicemembers pay a $1200 nonrefundable contribution to be eligible for GI Bill benefits and, though they have paid the government $230 million, 30% of troops never use their benefits. For veterans using the GI Bill, the average cost of four years at a public college or university, or less than two years at a typical private college, is 30-40% higher than the benefit. Moreover, National Guardsmen and Reservists typically receive only a fraction of their GI Bill benefits, even after serving multiple combat tours.
The new, more generous GI Bill plan negotiated by Senator Jim Webb is being referred to as the "Webb plan". For active duty servicemembers, reservists, and veterans who have served since the attacks of 9-11, the Webb plan would pay full tuition and fees at the most expensive state schools and would provide a new monthly stipend tied to local housing costs.
There are 1.5 million Iraq and Afghanistan veterans whose successful reintegration into the civilian world would benefit from a renewed GI Bill. In addition, the new bill would encourage high aptitude young people to join the military as the GI Bill is the military's single most effective recruiting tool and the number one reason civilians join the military.
To date, the Webb plan has passed the House by a vote of 256-166, the Senate voted 75-22 for the Webb plan, and the bill is now awaiting signature on the President's desk. President Bush has promised to veto the bill, but an override looks possible in both the Senate and the House.
To sign a Petition to the President, see link:
http://www.gibill2008.org/'
For more info on the Montgomery GI Bill and the Webb plan, visit:
http://iava.org/'
http://www.military.com/benefits/gi-bill'