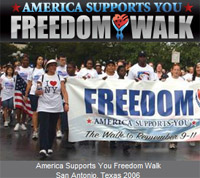 Remembering September 11th
The America Supports You (ASY) Freedom Walk began four years ago in Washington DC and has since become a national tradition drawing participants from across the country.
The first event was inspired by Pentagon employees who wanted to honor victims of the 9-11 attack, remember the responders, and pay tribute to our veterans past and present. Nearly 15,000 participants joined for the event which began at the Pentagon and ended at the National Mall.
Last year 255 communities nationwide participated with every state represented as well as 8 nations overseas. As more people are moved to participate the number of walks nationwide grows. Individuals and communities across the country reflect on the lives lost on September 11, 2001, remember those who responded, and honor our service members. It is a day to renew our commitment to freedom and the values of this great country.
We encourage you to start planning a Freedom Walk in your own community or learn if one is already planned and participate. This is a great opportunity for families, neighborhoods, church and civic groups, or your local MarineParents.com Support Group to gather together, honor victims of 9-11, and show support for our troops who bravely and selflessly serve in the name of freedom.

Listen to 11 year old Colton talk about how he organized a Freedom Walk in his hometown and his plans for a 2008 walk! Colton's interview takes place in the first 3 minutes. Allison Barber from ASY also talks about the importance of remembering 9-11 by organizing or particpating in a walk. Colton's Interview
For official information, and to learn how to organize an event, see the ASY "Freedom Walk" web site: http://www.americasupportsyou.mil/FreedomWalk