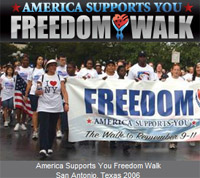 In conjunction with the National America Supports You Freedom Walk, MarineParents.com encourages our members to show your American spirit by committing to participating in or organizing a Freedom Walk.
The ASY Freedom Walks are not fundraisers or 5ks but a way for individuals, groups and communities to come together, reflect on the tragic events of 9/11 and recommit ourselves to freedom. The size of the walk does not matter; they come in all shapes and sizes. The meaning behind them is what counts!
The national walk will be held on Sept 7, 2008 in Washington, DC. Local walks that are organized should be held as close to 9/11 as possible.
Here are a few examples of what others did to show America we care!
Last year Tennessee's Helping Hearts organized their first annual ASY Freedom Walk. They planted two trees behind their local Chamber of Commerce in honor of soldiers who gave their lives and then walked to the Armed Forces Memorial Wall at the County Courthouse.
The SI Yellow Ribbon Fund in Marion, IL organized an hour-long walk at their local mall, which began with a song and prayer, followed by people walking as many laps as they wished to walk during that hour.
In Billings, MT, True to the Red White and Blue held a half mile walk around the Yellowstone River bike trail with several state representatives participating along with parents and children.
What will YOU do? We'd love to hear your ideas, your plans and have you share your photos with us after the event.
Share your Freedom Walk with us at: photos@marineparents.com
To discuss your Freedom Walk with other members of Marine Parents, click here..
For more info on the National America Supports You Freedom Walk, click here..