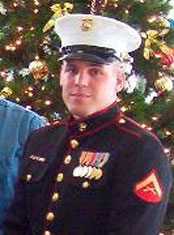 February 2009 Update:
Saturday, January 31st, was the completion of a long journey in building a new home for Cpl. Josh Hoffman. It was a labor of love for all involved. Josh and his fiancée Heather want to convey their extreme gratitude to all who have taken part. They are so happy with the home and the comfort it brings. Mostly, they are thankful for the feeling of having a place they can call their own, and Josh can now focus on rehabilitation.
Thank you to Homes for our Troops for their wonderful mission and all the volunteers who made this possible. Some people say they support our troops, these people do it!
We are trying to help a friend and fellow support group coordinator in Michigan get the word out for help for a "Build Brigade" for one of our wounded warriors. The home is being built for Marine Cpl. Joshua who was injured in January 2007, when he was hit by a sniper in Fallujah. He spent 14 months at Walter Reed.
Click for slide show...
Click here for a video of Homes For Our Troops on CNN...
The organization, Homes For Our Troops, is building a home for him in Middleville, near Grand Rapids, Michigan. The house will be specially designed for Cpl. Joshua, who is a quadriplegic. The ground-breaking was August 19. The house is being built at no cost to this Marine and is completely done by volunteers. Currently, the walls are up in the basement and the main sub floor is in. They have had many folks donating their time and expertise to make this happen. It is a tribute to how folks in Michigan and fellow Americans support our troops.
They are seeking help for the Build Brigade on October 2-4. They want to get the home up and enclosed in those three days, at least as much as they can make happen. They are in particular need of framers, roofers, siders and window installers. They need you whether you are skilled at building or not. They are working in shifts those three days. 8:00 - 12:00 and 12:00 - 4:30. Lunch will be from 11:00 - 1:00 with snacks and beverages through out the day.
Everyone is encouraged come and help or just stop by to see what's going on. We encourage you to wear your Marine Corps pride t-shirts, buttons and hats!
For a discussion thread on this, see:
http://www.usmcparents.com/forum/topic.asp?TOPIC_ID=78022
For more information on Cpl Josh Hoffman and project, visit his information page on
Home For Our Troops.
News Article: Organization helps wounded Michigan vet
By NBC25 Online
Sept. 24, 2008
Middleville, MI -- Homes for Our Troops, a non-profit organization that provides specially adapted homes for severely wounded veterans, announced today that it will host a "Build Brigade" event for a specially adapted home building project for Cpl Josh Hoffman on October 2, 3, 4, 2008.
Cpl Joshua Hoffman, USMC 1st BN 24th Marine Regiment-Michigan was hit by sniper fire in Iraq in 2007 on his 3rd tour of duty. The sniper's bullet severed his spinal cord at the base of his neck and left him a quadriplegic. After over a year in the hospital Josh still faces months, if not years, of physical rehabilitation and therapy as he strives to regain movement in his upper body and develop his language skills. Josh's will feature barrier-free adaptations and the use of technology to enable him to regain some of the independence that he has lost since being injured.
Cpl Hoffman's home is the first that Homes for Our Troops has committed to in Michigan. Since it's founding in 2004 Homes for Our Troops has completed 32 homes throughout the US and has 25 additional homes in various stages construction. Homes for Our Troops is proud to be listed in the American Institute of Philanthropy's top rated Veterans & Military Charities, and is a member of the US Green Building Council.
Build Brigade: On October 2, 3, 4, 2008, we will be hosting a marathon build event (that we call a "Build Brigade") at the site of Josh's project located at 21 Foxmoor CT, Middleville, MI. Beginning at 8:00 AM, the goal will be to erect Josh's home by completing the framing, roofing, windows, doors and siding with the help of many volunteers. Basically going from floor to a standing structure in 3 days!
Homes for Our Troops, and local volunteers in the community of Middleville would like to extend an invitation to your organization to join this event with Cpl Josh Hoffman.
Who: Homes For Our Troops, Inc. is a Taunton, MA based non-profit organization that (at no cost to the veterans they serve) provides specially adaptive housing to severely wounded veterans returning from the War on Terror,: www.homesforourtroops.org
To read the original article, click here.