Corporal Aaron Mankin was featured on CNN for Veteran's Day, November 11, 2008. Click here to watch the video...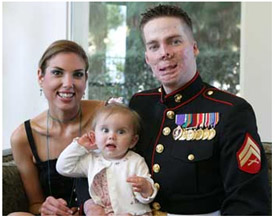 With the guidance and direction of Gunny Bob from 850 KOA in Denver, Operation Cancun Honeymoon raised over $8000! At the Third Annual National MarineParents Conference, Corporal Aaron Mankin was a guest speaker. It was decided at that time to raise the necessary funds to send the Corporal and his wife Diane on their honeymoon!
Corporal Aaron Mankin, a Marine journalist was seriously injured when the assault vehicle he was riding it was destroyed by an improvised explosive device (IED). 16 Marines were thrown from the vehicle. Six were killed instantly and Cpl. Mankin nearly made unlucky number seven. His entire body had been horribly burned. This young marine is fortunate to be alive. He came home to his wife and 15 month old daughter.

"Retaining something in myself that no one else could take away was a victory that I fought for everyday." - Corporal Aaron Mankin
Unfortunately, Cpl. Mankin and his wife, who was also a marine, never had the opportunity to take a honeymoon due to their obligations. Operation Cancun Honeymoon to the rescue! Gunny Bob learned of Cpl. Mankin's story and met the young Marine at the Marine Parents National Conference in Washington, D.C.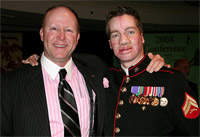 The Gunny knew his audience would want to send Cpl. Mankin and his wife on the honeymoon they never had. Through the generosity of numerous donors, the Gunny and Marine Parents were able to raise the money to send Cpl. and Mrs. Mankin on an all-expense-paid first-class honeymoon to sunny, warm Cancun.
To read more about Gunny Bob, visit the KOA Radio Denver, Colorado web site:
www.850KOA.com
To listen to the Gunny Bob Show when he launched Operation Cancun Honeymoon. Click the link below, then srcoll to the show "Full Gunny 4/21/08 10p".
Click here...
To make a donation to Purple Heart Hero Support™,
Click here...