Wounded Marine Handcrafts Marine Mom Necklace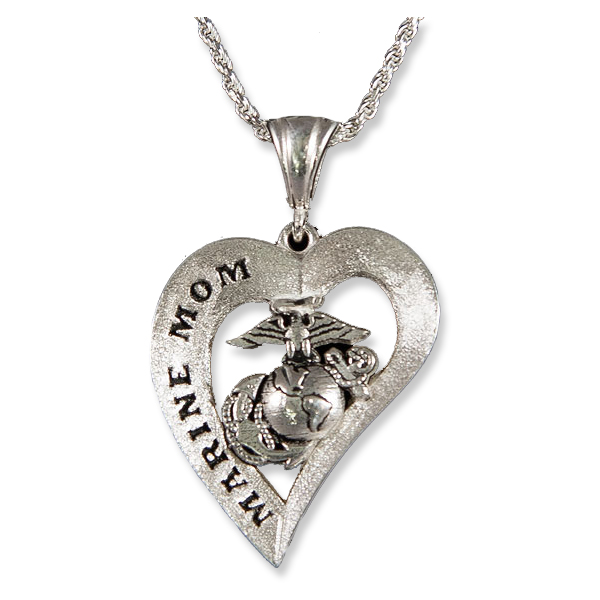 When the EGA Shop first revealed the Marine's Heart Pendant necklace and announced that it was handcrafted by Marine Corps veterans, the unique piece of jewelry gained significant attention.
Randy served on active duty from 1968 - 1972 and leads the business on a daily basis, providing instruction and direction for the apprenticeship program. He's a master jeweler and brings over 35 years of custom fine jewelry experience to assist in all steps from design to presentation.
Randy is lifetime member of "The Walking Dead" and the Marine Corps League and actively reaches out to Veterans of all services.
One of the Wounded Warrior apprentices is Lance Corporal Sean Carroll (shown in photos). It is our pleasure to have the quality, determination and spirit of life shared with us that Sean brings with him.
Every day this young man comes in with a positive attitude, a can do spirit, and laughter. He always wants to learn and improve upon the skills he's learning. Yes - Sean has some challenges, including TBI, PTSD, right leg amputation, loss of the left thumb and index finger, and extensive skin grafts. Just don't tell him he can't do something, he is turning out to be one of my best.
Sean faces these challenges as a result of a direct hit from an IED while on foot patrol in Ramadi, Iraq in 2004 (more details below). The Wounded Warrior Apprenticeship Program is very lucky to enjoy and share time with Sean, "We're very thankful for our Navy Corpsmen and miracles."
The mission of the Wounded Warrior Jeweler Apprenticeship program is to train and instruct wounded warriors on all aspects of a professional jewelry business.
Randy actively looks for wounded warriors who would be interested in becoming professional jewelers and entering the Wounded Warrior Jeweler Apprenticeship Program. We always have open slots and look forward to filling them. For more info call 1-866-545-1775.
We're proud to have Sean making our Marine Corps Jewelry and proud to say it's all designed and handcrafted by a Veteran. We know you'll be equally proud to wear it!
Click here to purchase a necklace
LCpl Sean Carroll
Back in Time: March 25, 2004, 2nd Bn 4th Marines, Ramadi, Iraq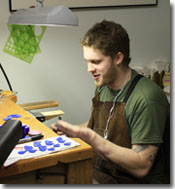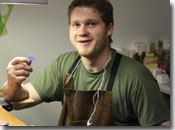 Every time the two corpsmen cut off a piece of clothing on the wounded Marine, they found another injury. As they worked, the Marine's face grew paler and his lips began to turn purple. He was moving closer to death.
They had been patrolling along a road. LCpl. Sean Carroll was walking a short distance behind Petty Officer Elias Monarrez when a hidden bomb exploded. There was a flash, a boom and a burst of debris.
When Monarrez ran into the settling cloud of dust, it seemed as though the Marine had vanished. And then Monarrez saw him: blown to the other side of the road, covered in trash and all manner of debris.
His leg looked oddly flat. As Monarrez examined Carroll, he began to comprehend the full scale of the Marine's injuries. One leg was nearly severed. There were two grapefruit-sized shrapnel wounds on his back. The bone of his shoulder blade was visible. And there were more wounds on his chest, pelvis and head.
"If somebody had come up to me as a training exam and given me all those injuries, I'd say that person's dead," said Petty Officer 3rd Class Tyrynn Dennis, who rushed over to help.
"When you actually know the person, you do everything you can. You try everything." Monarrez and Dennis worked furiously, bandaging and splinting the leg, then dressing the wounds, one by one. As Carroll drifted in and out of consciousness, Monarrez shouted at him and tapped his face to keep him awake.
By the time the medevac helicopter flew off, Monarrez and Dennis had exhausted their medical supplies. They held out little hope that the Lance Corporal would survive.
Surgeons could not save the leg, but months later, Carroll is still alive.
And...Today...LCpl Sean Carroll - a good guy with such a strong desire to live everyday - lives in Colorado. He is a great friend to many and is known simply as Sean.
Yes, there are many who are VERY THANKFUL for our Corpsmen. Sean plays a mean guitar, writes songs, is learning to make jewelry, and truly attempts to live life to its fullest. His humor, spirit, laughter and daily drive give all of us perspectives on a daily basis. Truly, Sean is a blessing to many who know him.