The Well of Fortitude
From Our Founder, Tracy Della Vecchia
Written in October of 2009 when the organization was not quite in the seventh year. It still rings true today when the organization is now more than 15 years in service.
---
In the space and time that is MarineParents.com the organization, we've only been around for about seven years. In that time, we've learned from one another, not only how to get through bootcamp and deployments, but how to help one another and our Marines when the going gets tough.
It seems each day there are new needs being presented to us as an organization and we have to carefully pick and choose how we'll spend our resources in time and money to assure we're providing the best quality support we can, and in the areas that matter the most within our mission statement. That has never been more apparent for me than in the last few weeks here at the corporate office.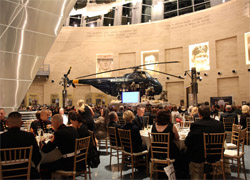 We've attended a whirlwind of events in the last weeks of October, starting with an event held at the Marine Corps Museum in Quantico, Virginia to remember our fallen heroes. Colonel Steve Beck, USMC, currently stationed at Twentynine Palms, California, founded an organization called "Remember the Brave". Though this was the second ceremony we helped with, it was the first that I attended. There were almost 60 families there, and many of them were Marine Corps families that I had previously talked with but not met in person. The ceremony was beautiful, and I finally was able to put a face to the names of the stoic parents whose sons made the ultimate sacrifice for our country; for the freedom of the people in Iraq and Afghanistan to have the right to vote. As each family was presented an Iraq voting ballot written in Arabic, along with their Hero's medals mounted to a wooden keepsake, my heart was heavy, not with a burden, but with the fullness and glory you can only experience when embracing and understanding the knowledge that freedom is not free, and our sons and daughters were and are willing to give their life for that freedom.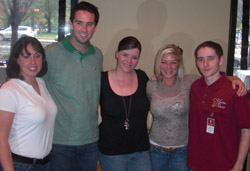 The following afternoon, Team Marine Parents® held the annual kickoff for the Marine Corps Marathon and 10k race. Two Marines participated on the team and attended the kickoff with us; John McClellan, a/k/a "Lucky", a two-time Purple Heart recipient who was shot in the head by a sniper thereby earning his third Purple Heart, and Josef Lopez who was tragically paralyzed after being given the small pox vaccination before being deployed to Iraq. Each of those Marines were treated at Balad Airbase in Iraq before being airlifted to Germany for treatment. While at Balad, both Marines were treated by three female Air Force medics. Through the course of the years, the medics were searching for some of their patients who had survived, as a way to heal from their own PTSD. During the event, the medics and the Marines met for the first time since being at Balad. The healing that was able to transpire in those first few minutes of meeting one another will last a lifetime for me. The emotions were overflowing from all directions that evening.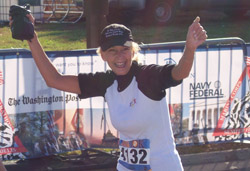 The following day my husband and I were spectators for the Marine Corps Marathon, watching thousands of participants running for thousands of reasons; some to heal, others to provide funding for healing; some in memory of a loved one, including a mother I met on Friday night at the Gold Star ceremony. The participants I watched all had two things in common: they were there to realize a success, and they hoped their success would be a benefit to someone else. The team raised almost $9000 this year for outreach programs at Marine Parents. Josef finished the race on his hand cycle; his third race in as many years. John ran and finished the race, his first ever.
That afternoon, Marine Parents volunteers and a few Marines went to Bethesda Naval Hospital to serve another of the monthly meals to the families of our wounded warriors, and to the warriors in the barracks who continue to convalesce and work toward their own healing from physical wounds, brain injuries, post traumatic stress and combat recovery. The silent gratitude from the families reverberated in the hearts of all who volunteered their time, as each watched the family members struggling with the "new normal" they'd been handed.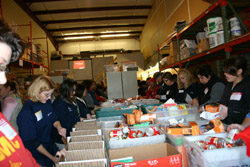 The following weekend, we were back in Columbia, Missouri for the Care Packet Project® packing day and ribbon cutting ceremony. It was our first time to use the full length of the new warehouse, complete with sorting bins and conveyor rollers built by former Marines and fathers all over the country. We had hundreds of boxes to sort through, and family members and Marine supporters came from St. Louis, Kansas City, Michigan, Minnesota and Illinois to prepare on Friday for the packing the following morning. On Saturday, over 125 people were there, ranging from 7 years to 70 years, packing 1056 boxes for Marines deployed to Afghanistan and Iraq. The boxes were filled with content that hundreds of organizations and people from all over the United States had worked hard to collect over the last ten weeks. Every box was touched in those three hours by at least 30 hands and each person was asked to put a prayer of safety in every box they were in contact with. The vast numbers add up to thousands of people from all over the US supporting and praying for our troops.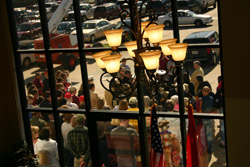 Three short hours later, with 1056 boxes on their way to Marines in combat zones, we were ready for the ribbon cutting for our newly renovated office. Almost 200 people were in attendance, as I cried through a good portion of what was to be my presentation and thank you to the people who gave so much to this organization so we could continue the work we do to support Marines and their families at home. I don't even know the number of work hours in total for the project, but the estimates from folks who know how to measure square footage and commercial renovation, are close to $250,000 in donated labor and materials. Weekend after weekend wives around Missouri gave up their husbands to work on our to-do list for the office. Folks around the country worked with me to get materials donated. Over 150 people donated their time to make the office a reality. The numbers overwhelm me; the accomplishments astound me; the commitment to supporting our Marines strengthens me.
At our conference in 2006 in Houston, Colonel Bryan P. McCoy, USMC, encouraged our Marine Corps family members to find a "well of fortitude" to drink from and gain strength to carry on another day in the face of challenges and the emotional rollercoaster of having a son or daughter in the Marine Corps. And for me, personally, when the going got tough running an organization that is unlike any other. These are the things that make up my well of fortitude.
Wherever you are in your journey, as the family member of a recruit, a Marine, a Veteran, a Purple Heart Marine or a Fallen Marine, MarineParents.com® is here for you, with thousands of hands behind you, supporting you in ways that are both very visible and nearly invisible. I encourage you to embrace the philosophy of "the well of fortitude" as well, as we gain strength from one another no matter what our challenges may be.
Tracy Della Vecchia
Founder and Executive Director
MarineParents.com®, Inc.