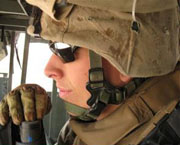 October 15th, 2008
For Immediate Release
From the family of Jordan Haerter
The family and friends of Marine Lance Corporal Jordan C. Haerter are proud to announce the upcoming dedication and unveiling of a public memorial along with the renaming of the Sag Harbor/North Haven bridge to honor the courage of this local hero. The ceremonies will take place on Saturday November 15th beginning at 10:30AM at the head of the historic Long Wharf in Sag Harbor.
Lance Corporal Haerter was killed in Ramadi, Iraq on April 22nd at the age of 19. He, along with Corporal Jonathan Yale of Meherrin, Virginia are credited with saving the lives of 33 Marines and over 50 Iraq Police when they shot and killed a suicide bomber who was racing towards their compound with a dump truck loaded with high explosives. Their rapid response to the impending threat, however, cost them their lives when the deadly cargo was detonated. In the months following the tragedy, Sag Harbor and the surrounding communities rallied to raise funds for the construction of a granite memorial in honor of Jordan's heroism and supreme sacrifice. The monument will be placed on bay front land donated by the village and landscaped by local contractors.
In May, a bill sponsored by State Assemblyman Fred Thiele and State Senator Kenneth La Valle and subsequently passed, calls for the renaming of the Sag Harbor bridge to honor not only Lance Corporal Haerter but also all the military veterans who have come before him. The bridge will now be known as "The Lance Corporal Jordan C. Haerter Veterans Memorial Bridge". Attending the weekend events will be many of the Marines that were in the compound that fateful morning along with many members of the 1st Battalion 9th Marine Regiment. Various veterans groups from the area will also be participating. The family encourages the public to attend the ceremony and to offer their support for our troops still currently in the field.
Thank You,
Christian Haerter... Proud father of LCpl Jordan Christian Haerter
Click here for photos...
Questions regarding this release or any questions regarding the dedication may be directed to me at 631-725-2884 or to Jordan's mother JoAnn Lyles at 631-725-1788.
For a more detailed biography and photos, please visit Jordan's memorial website at
http://jordanhaerter.com/