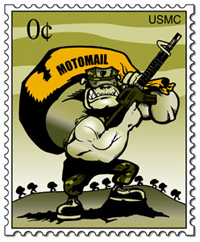 Your Marine is deployed in Afghanistan, with all that deployment entails. That can mean your Marine goes days or weeks without Internet service, days or weeks without being able to connect with you, days or weeks without hearing your voice or seeing your face – and vice versa.
The separation seems like forever.
You could wait for an infrequent – and brief – Internet connection, but you have no way of knowing when that might occur. You could write a letter and send it through U.S. mail, but from 10,000 miles away, it might take up to two weeks for your Marine to receive it; too long, too long from what you're feeling now.
Or you could use MotoMail.
Endorsed by the Marine Corps (and MarineParents.com), MotoMail is the fastest way to send your Marine letters and photos. The electronic mail service can deliver a confidential, sealed letter in as little as 24 hours. Best of all, it's free and OPSEC compliant; letters are encrypted when created and remain encrypted until decrypted for printing.
The letter is printed in a sealed format, much like you receive a PIN through U.S. mail for your credit or debit card. No one else reads the content of the letter; it's between you and your Marine.
Set up an account at MotoMail.us. Enter your Marine's information and mailing address from the drop-down list. Type your letter using your computer keyboard, no software required. Click send, and your letter is already overseas, ready to be printed and sent on the next postal truck to your Marine's camp. It will be delivered to your Marine's duty station and left on his (or her) bunk, ready to be read when your Marine returns.
Unlike fleeting Internet connections that can't be stored, with MotoMail, your Marine can keep your letters and read them over and over again – seeing, feeling, holding these printed pieces of love and support.
MotoMail is available where Marine Postal has deployed services. Currently, that means: most Marine units in Afghanistan (via service at Camp Leatherneck / Bastion). Exception: There are Marines at Bagram who cannot currently receive MotoMail because they are served via USAF Postal. Marines in Bahrain. All MEUs shipboard. MotoMail equipment and trained personnel are always placed with MEUs.
Marine units who are shipboard but not part of an MEU are not served by MotoMail.
Besides Marines, Navy, Army and Air Force military members co-located with Marines are eligible to receive MotoMail.
Sign up today.