On July 30th, 2008, three-time Purple Heart recipient Lance Corporal John McClellan was in Laura Ingraham's Washington studio as a guest on The Laura Ingraham Show. John's mother Connie, author of
My Miracle Marine
, also joined the show participating in the interview via phone.
To listen to the show, click here...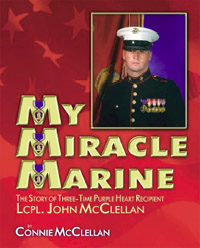 Connie McClellan is a Marine Parent whose son, John McClellan was injured in combat not once, not twice, but three times. John was dubbed "Lucky" by a Stars in Stripes correspondent after his second gunshot wound sustained in Afghanistan. Connie has written a book that tells the story of the journey her family has taken during this incredible time in their lives.
In My Miracle Marine, Connie shares how her devotion and a never-ending faith in God's healing through consistent prayer brought miracle after miracle to her Marine son, John. Connie's story will lift you and inspire you and, for those of you with a son or daughter deployed or soon-to-deploy, will help you face another day of deployment. Marines maintain an "always faithful" pledge to God and country; Connie raises the motto "Semper Fidelis" to a new level. I encourage you to read and share this uplifting story!
To order, go to http://www.mymiraclemarine.com
Click here for the Pentagon Channel Documentary on John and his injuries and PFC Channing Moss...