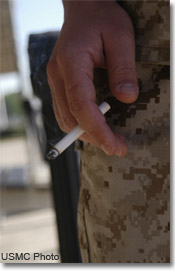 Update: August 13, 2010
The US Postal Service has come up with a solution. Effective August 27, 2010, military families are now allowed to ship tobacco products using Priority Mail boxes. See USPS guidelines below for the maximum amount that can be shipped.
AP: Tobacco Shipments To Resume Overseas
Click for a PDF of the USPS guidelines.
---
S.1147 A bill in the US Congress was recently passed "to prevent tobacco smuggling, to ensure the collection of all tobacco taxes, and for other purposes." However, they've restricted it so much that as of June 29, 2010, families can no longer legitimately send tobacco to their military loved ones serving overseas. After some careful research we have determined that the legislation was not to be interpreted as a restriction to military families, but rather is a snafu of under-planning on the part of the legislators, which now makes it impossible to implement correctly and unfortunately impacts military families unfairly.
---
Update: August 4, 2010
We have finally made some progress with legislators on this issue! Congressman Duncan Hunter (R, California) has proposed legislation, HR 6037, that would allow tobacco products to be mailed to members of the armed forces in a combat zone. The bill would also waive restrictions on the size and number of packages that can be sent to troops in designated combat zones.
We will be supporting Congressman Hunter's legislation and encouraging other military families to do so. You can make a big difference simply by writing to your Senator asking him or her to support the proposed legislation.
Click Here to write to your Congressperson in the U.S. House of Representatives. Just enter the required information to be taken directly to their page.
You can also write to your Senator. Click Here to locate your state Senators. Choose your state from the drop-down menu on the left and then click on the link next to "Web Form" to be directed to their contact page.
Click for copy of HR 6037
Status of the Bill and Co-Sponsors
See news articles below:
---
Update: July 29, 2010
We were hopeful that progress was being made with the USPS, but we've yet to get a response to the following email dated June 24 to the USPS. However, we have learned that Congressman Duncan Hunter will be working on legislation to amend the PACT Act, and we will be communicating with his office about this.
Thank you for the response. This is a problem that needs a solution. The PACT Act was not written to restrict sending to military personnel who are of age for personal use; it's the USPS guidelines that are restricting it. A change needs to be made in the guidelines as it pertains to military personnel stationed in APO/FPO areas without EMMS service. At this time it appears that the guidelines are discriminating against military personnel, and I would assume that is not the intent.

I've asked the legislators and they are pointing the fingers at the USPS guidelines. It's getting absurd that no one wants to take responsibility for prohibiting tobacco being sent to military personnel serving in combat zones.

Where do we go from here to resolve this?

Respectfully,
---
Update: July 22, 2010 (see original Marine Parents article below)
The issue we ran into is the USPS requiring tobacco to be sent via Express Mail Delivery, which is not available at most APO/FPO addresses. That requirement seemed to be in contradiction to the intent of the law and actual implementation for military mail.
Our initial inquiry of the USPS guidelines and communication with legislators resulted in each side claiming the other was responsible for the guidelines, and we weren't able to get anywhere with either side.
However, after several phone calls and inquiries we have finally been able to locate the person in charge of this at the USPS in Washington, DC, and he has been asked to respond to our questions. We anticipate hearing from him soon and will follow up.
While trying to find the right person to answer our questions, we came across the original USPS proposal for handling mail under the PACT Act. The original intent for handling mail to military follows:
The applicability of these proposed rules to domestic mail under DMM 608.2.1 would include mail to, from, and between military installations, Army Post Offices (APOs), Fleet Post Offices (FPOs), and Diplomatic Post Offices (DPOs), except for mail treated as domestic under DMM 608.2.2. Delivery rules would apply to overseas military mail as practicable under the certain individuals' exception. Hold for Pickup service would not be required for delivery to APO, FPO, and DPO addresses.
(Click here for original USPS document)
This seems to indicate that the military mail to APO/FPO would be exempt from the "Hold for Pickup" guideline, which would have required Express Mail Delivery. However, it is not available in many FPO/APO locations. This seems well and good, but the contradiction begins again later in the same USPS document:
The PACT Act requires that eligible shipments under this exception be sent via mail classes that provide for the "tracking and confirmation of the delivery." 18 U.S.C. § 1716E(b)(3)(B)(ii)(III). The mail service that fulfills this requirement is Express Mail service, which offers tracking information and confirmation of delivery. Consequently, the proposed rule specifies that eligible shipments under the business/regulatory purposes exception would be required to use Express Mail service.
The document is amended with the following statement, which seems to make it "okay" for military mail under our interpretation:
11.3 Mailability Exceptions
Cigarettes and smokeless tobacco are mailable if one of conditions in 11.4 through 11.8 is met. These exceptions only apply to domestic mail under 608.2.1, including mail to, from, and between military installations and Army Post Office (APO), Fleet Post Office (FPO), and Diplomatic Post Office (DPO) addresses, with the exception that delivery procedures for overseas military mail under the certain individuals' exception in 11.6 may vary as practicable. These exceptions do not apply to mail treated as domestic under 608.2.2 or international mail as defined in 608.2.3.
It seems pretty clear that delivery for overseas military mail may vary as practicable. I would argue that the USPS could remove the variable of having the Express Mail requirement for military as it is not available to many APO/FPO facilities. That would be practical; everything else falls into place with the "mailing for personal use." The USPS has checked the age of the sender (noted as a requirement for USPS mail clerks) and will now rely on the military to assure that the tobacco is delivered to an age-appropriate individual, thus effectively negating the need for Express Mail service that is prohibited to many APO/FPO addresses (see article below).
That seems simple enough to us, though we may not have a firm enough grasp on the difference between 608.2.1 and 608.2.2 mail, to which we defer to our contact in Washington, DC, to decipher for us. While it may not be so simple, our hope is that the USPS can resolve this in a reasonable amount of time and the USPS guidelines can be modified accordingly. It's just the right thing to do. We'll keep you posted!
---
Original Marine Parents Article, July 20, 2010:
The legislation (coined PACT Act for "Prevent All Cigarette Trafficking") bans the postal service from handling smokeless tobacco, chewing tobacco and roll your own cigarette tobacco. Additionally, interpretations of the law are making it confusing for not only family members, but postal workers to make a firm decision on whether or not we are allowed to send a pack of cigarettes to our deployed military men and women. This is the FAQ excerpt directly from the USPS website:
QUESTION: Can I mail cigarettes to my relative serving overseas in the U.S. Military?
POST OFFICE RESPONSE: That depends, some overseas host countries do not allow cigarettes and tobacco items in military mail and such items may be prohibited. You should first check the Postal Bulletin for cigarette/tobacco restrictions based on the ZIP Code® of the APO/FPO/DPO installation. If cigarettes and tobacco items are permitted, customers must use Express Mail Military Service (EMMS) for shipping these items to APO/FPO/DPO addresses. Customers should also be aware that Express Mail Military Service is not available to all APO/FPO/DPO ZIP Codes.
To try to understand this, we broke the USPS FAQ into a point-by-point discussion:
USPS: That depends, some overseas host countries do not allow cigarettes and tobacco items in military mail and such items may be prohibited. You should first check the Postal Bulletin for cigarette/tobacco restrictions based on the ZIP Code® of the APO/FPO/DPO installation.
MarineParents.com: Check. Afghanistan zipcodes allow sending tobacco. (Restriction Code C is not applicable to MOST Afghanistan APO/FPO ZIP Codes.)
USPS: If cigarettes and tobacco items are permitted, customers must use Express Mail Military Service (EMMS) for shipping these items to APO/FPO/DPO addresses.
MarineParents.com: This seems simple enough; we need to use a different type of box and mail delivery. However...
USPS: Customers should also be aware that Express Mail Military Service (EMMS) is not available to all APO/FPO/DPO ZIP Codes.
MarineParents.com: EMMS mail is NOT available for Afghanistan APO/FPO ZIP Codes as noted by USPS Restriction Code V. So, no cigarettes can be shipped to military APO/FPO with Restriction Code V.
It seems contradictory, particularly where Code C is not a restriction but Code V is a restriction as is the case with most APO/FPO ZIP Codes for Middle East locations, including Afghanistan and Iraq. However, there are instances where neither Code V nor Code C are restricted and therefor you would be able to ship overseas. To check YOUR Marine's zip code, see the Post Office Bulletin Pull Out Section (Click here to open link in a new window).
So, the bottom line, according to the USPS, mailing cigarettes and chewing tobacco is no longer allowed to military personnel serving in some locations and most Middle East locations, including Iraq and Afghanistan.
However, we don't believe this is what the new law intended. The USPS simply has to enforce the new law. But clearly, somewhere along the line, this wasn't very well thought out before it was signed into law. The purpose was to make sure the right taxes were paid on tobacco products being sent by US Mail, and that tobacco was not being mailed to minors. That's certainly NOT the issue with the military men and women serving overseas.
In trying to understand the full ramifications of this, we inquired of our local postmaster who is at this time trying to figure out whether shipment of tobacco can be via another system called "Global Express". Who knows how long it will be before changes are made and the USPS can re-write the guidelines to make it "okay" to ship tobacco to military men and women serving overseas.
While we hold on their decision, as the founder of this organization, I will give you my personal take on this. I am a law-abiding citizen and truly believe that rules are in place for a reason and should be followed. However, I can tell you that if my son was deployed to Afghanistan and asked me to send chewing tobacco or cigarettes to him, I'd figure out a way to make it happen.
Luckily my son is not deployed and I don't have to make that kind of a decision. However, our intent as an organization, is to push until this is amended in a way that makes it legitimate to send tobacco in a care package to our sons and daughters deployed overseas. We'll keep you posted.
Note that cigars are exempt from the ban, and as is customary, we will continue to mail cigars in care packages to Marines overseas for the November 10 Marine Corps Birthday celebration.
Stay posted. We'll stay on top of this and give updates as we learn more.
Would you like to share your opinion and see what others are doing? See the Marine Parents message board thread here:
http://www.usmcparents.com/forum/topic.asp?TOPIC_ID=93534
---
Here is an excerpt from the law, under Section 3, where it exempts individuals sending tobacco by mail for non-commercial purposes, which is exactly what we would be doing sending it to military personnel overseas. However, they've compounded it with so many restrictions that it becomes impossible to apply to our military personnel serving in combat zones.
Section 3 - Amends the federal criminal code to treat cigarettes and smokeless tobacco as nonmailable matter and prohibit their deposit into the U.S. mails. Requires the USPS to refuse to accept for delivery or transmit through the mails any package that it knows or has reasonable cause to believe contains any cigarettes or smokeless tobacco made nonmailable by this Act. Exempts from such prohibition: (1) cigars; and (2) mailings within the states of Alaska or Hawaii; (3) mailings for business purposes between legally operating tobacco businesses and by individuals for noncommercial purposes;or (4) mailings for consumer testing by manufacturers or the federal government. Requires the Postmaster General to issue a final rule to establish the standards and requirements applicable to tobacco products mailed for business purposes. Requires the seizure and forfeiture of any cigarettes or smokeless tobacco illegally deposited into the U.S. mails. Imposes an additional civil penalty and a criminal penalty for mailing nonmailable tobacco products. Establishes the PACT Postal Service Fund to which 50% of criminal and civil fines for mailing violations shall be transferred and made available to the Postmaster General to enforce mailing restrictions on cigarettes and smokeless tobacco products. Allows a state, local government, or Indian tribe to obtain appropriate injunctive or equitable relief for mailing violations in a civil action in a U.S. district court.