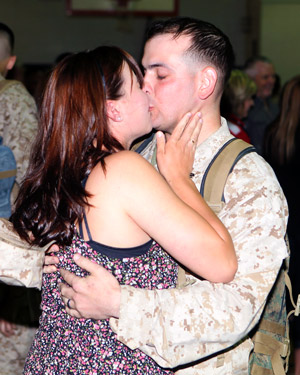 Cpl. Stelio Montini kisses his wife, Amber, after coming home from a seven-month deployment to Afghanistan. Marine Corps photo by Marine Sgt. Justin J. Shemanski.
The baby is crying. The dog is barking. And that smells like dinner is burning in the oven.
Home life can be stressful in the best of times, but now imagine that your spouse is 10,000 miles away and wonít be home for another five months. For thousands of military families, they donít have to imagine: It is reality. Thatís why May is set aside as a national military appreciation month, and the Friday before Motherís Day is Military Spouse Appreciation Day. This yearís spouse appreciation day falls on May 11.
With the war in Afghanistan still going 11 years after the United States invaded and deployments to U.S. bases around the globe, being separated from a military member spouse is part of the job description. According to the Center for Deployment Psychology: ďOver half (55 percent) of active-duty service members are married, and a significant percentage (43 percent) have children. Since nearly half of the active-duty force is under age 26, this means there is a large number of young military families with children.Ē
In effect, thousands of families become single-parent households while the spouse is deployed.
Historically, itís men who are sent off to war while the women stay home. But in todayís world, women make up 15.9 percent of all military members, including the Coast Guard. That figure includes those on active duty, reserve duty or in the National Guard, according to information from the U.S. Department of Defense as of September 30, 2011. So although men bear the brunt of fighting and serving in the military, women take part in active deployments, too.
The spouse appreciation day started in 1984 by proclamation from former President Ronald Reagan. But what does it mean to ďappreciateĒ a spouse? How does that translate into their day-to-day world where the mortgage is due, the kid has an earache and the power bill is two months late?
It probably doesnít. Nor does it need to. An appreciation, boiled to its essence, is an acknowledgment of the sacrifices military spouses make the other 364 days of the year. Itís a sympathetic ear to listen with. Itís a shoulder to lean on. Itís a simple, sincere ďthank you.Ē
To leave a note for a military spouse, or talk with others about this day of recognition, visit the event on our Marine Family Network:
http://marinefamilynetwork.com/events/military-spouse-appreciation-day