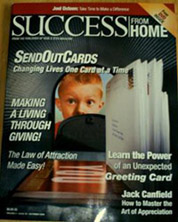 Do you send greeting cards, or know someone who does? Or do you find yourself wondering what to say in a daily letter to your recruit? What if you could easily send REAL greetings cards anywhere in the world, with the click of your mouse? Do you think you'd send more cards to people you care about?
One of our fundraisers is SendOutCards, an online greeting service that is featured in the October issue of "Success From Home" magazine, on sale now nationwide, and available at Barnes & Noble, B. Dalton, Borders, Books-A-Million and Staples.
If you would like to experience sending a REAL card from your computer, delivered by the United States Postal Service, we would like to give you a gift account. Please contact our volunteer, Anita Johnson at soc@marineparents.com or 678-810-0883 to schedule an appointment to open your gift account.
Remember, the holidays are coming up and these customizable cards are less than $1; saving you money, time and gas.