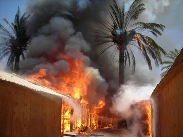 On July 1, 2008 a fire at the outpost of 3rd Battalion, 6th Marines, Lima Co. in Fallujah Iraq destroyed all the wooden structures and most of the Marines' personal belongings.
Concerned members of the Marine family community rallied together to answer calls from citizens; some family members of 3/6 Lima Marines, to help resupply the destroyed personal items.
A generous outpouring of support has helped to re supply these Marines but now it is time to shift the support elsewhere.
Below is a letter that we've received permission to publish from Major Cliff Gilmore, 2nd Marine Division, Public Affairs Office. Major Gilmore expresses appreciation for the generous albeit "overhwelming" support of the 3/6 Marines but specifically asks that support now be directed elsewhere.
Letter From Major Gilmore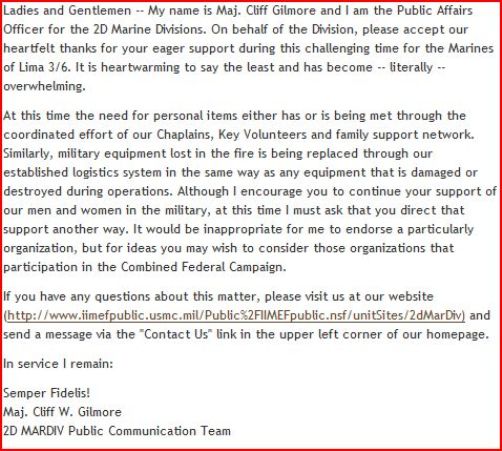 While Major Gilmore did not suggest an organization for current donation efforts, please consider MarineParents.com. Our next Care Packet Project™ packing event is Aug, 23, 2008.
We have knowledge that the 2/7 Marines in Afghanistan are very much in need of baby wipes. Your generosity extended to these Marines and all the Marines scheduled to receive a package from us will be greatly appreciated.
For information on how and where to send donations see this page:http://www.carepackageproject.com/