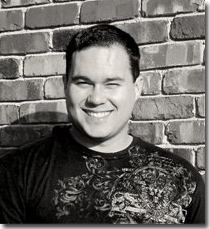 We'd like to introduce the special guest you will be fortunate to hear speak at our April 30th luncheon at the Marine Parents corporate office in Columbia, Missouri. We discovered only recently that he lives right here in town!
Combat veteran Gerardo "Tony" Mena encourages us to see the world through his bright eyes in his recent singe, "I Felt the Earth Spin Today." After six years as a Navy Corpsman aiding Marine Recon, Tony is now producing original indie/rock music and poetry. His poem "So I was a Coffin" won first prize in the Winning Writers 2010 War Poetry contest, and two of his singles are featured in the Nashville Review. The publication's editor said he was so moved by Tony's music that it made him cry.
Few would presume that only a couple years ago Tony was frequenting a local bar and playing hours of the video game Call of Duty in his basement. He was experiencing symptoms of post-traumatic stress disorder, but like most service members with PTSD, he was hesitant to seek professional help.
He began to discover other avenues of therapy, one of them being his Introduction to Poetry class at the University of Missouri, where he is pursuing an English degree. His first poetry assignment served as an outlet through which he freed everything he had been thinking and feeling about the war. The end result was a surprising three-page poem that Tony now criticizes, "because it wasn't really refined or anything."
With the support of well-known military poet Brian Turner, Tony refined his writing, and he is now working towards publishing an entire book of his poetry. It chronicles his experiences and most painful moments overseas. Tony's goal is to promote the message that there can be life after war and that the arts can be an outlet for healing. His song "I Felt the Earth Spin Today" communicates hope and the beauty in life to service members who feel they can't escape their emotions. He is one of those service members.
More of Tony's journey to healing will be told in part two of his story in the April 27th newsletter.
Click here to view Tony's music videos.
Learn more about Tony at www.GerardoMena.com.