Veterans Day Discounts
Learn more about Veterans Day discounts.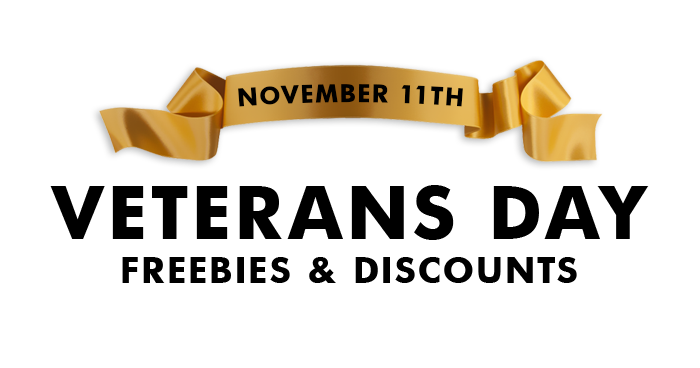 Each year, in honor of Veterans Day, a number of restaurants and businesses around the country offer free or discounted goods, services, and meals to both veterans and active-duty service members. In 2015, the following restaurants and businesses are offering discounts*:
Beginning November 8:
McCormick & Schmick's: Free lunch or dinner from special menu.
Beginning November 9:
Carraba's: Free appetizer of your choice.
Red Lobster: Free Appetizer from a select list of appetizers.
Spaghetti Warehouse: Buy one entree, get one free. Coupon Required (available on their website and FaceBook page).Choose any of 11 "Original Recipe" Spaghetti entrees and receive a second entree free. Friends and relatives are encouraged to treat a veteran to a meal.
Beginning November 10:
Country Cookin': Free meal for current and former military.
Bar Louie: Free entree from select menu. Dine-in only.
Beginning November 11:
54th Street Grill: Free meal, up to $12 value.
Applebees: Free meal from special menu. Beverage and gratuity not included.
Bob Evans: All you can eat hotcakes.
Bonanza Steakhouse: Free Veterans Day buffet.
Brann's Steakhouse & Grill: Free 6 oz sirloin and two sides.
Buehler's Grocery: Free breakfast menu meal, 7:00 a.m. until 11:00 a.m.
Buffalo's Cafe: Free meal.
Calhoun's Restaurant: Free meal from select menu.
California Pizza Kitchen: Choose a pizza, full size salad, or pasta from the special Veterans Day menu.
Cattlemens Steakhouse: Free 8 oz sirloin steak dinner.
CentraArchy Restaurants: Free meal at participating restaurants, including Burrito Loco, California Dreaming, Carolina Roadhouse, ChopHouse New Orleans, ChopHouse '47, Gulfstream Cafe, Joey D's Oak Room, and New York Prime.
Cheeseburger in Paradise: Free All-American Burger with fries with purchase of beverage. Dine-in only
Chick-fil-A: Free entree with beverage. ID required.
Chili's: Free lunch combo during lunch hour, or free meal from special menu during dinner hour.
City Barbeque: Free sandwich platter at participating locations. Proof of service required.
Claim Jumper: Free entree from select menu, with official proof of service. Dine-in only.
Cotton Patch Cafe: Free meal. Proof of service required.
Denny's: Free Build Your Own Grand Slam, from 5 a.m. until 12:00 p.m.
Fatz Eatz & Drinkz: Free meal. Proof of service required.
Fox & the Hound: Free Sandwich or Entree (up to $10). Dine-in only.
Friendly's: Free breakfast, lunch, dinner.
Golden Corral: 15th annual Golden Corral Military Appreciation dinner, 5:00 pm until 9:00 pm.
Green Mill: Free menu item for lunch or dinner.
Hoss's Family Steak and Sea House: Free meal from the "American Values" menu, 11:00 a.m. to 9:00 p.m.
Hurrican Grill & Wings: Free meal from special menu.
Little Caesar's Pizza: Free pizza or $5 HOT-N-READY lunch combo, 11:00 a.m. and 2:00 p.m.
LongHorn Steakhouse: Complimentary Texas Tonion and non-alcoholic beverage.
Max & Erma's: Free "Best Cheeseburger in America" combo.
Menchie's: Free 6 oz. frozen yogurt.
Mission BBQ: Free sandwiches to active duty military members and veterans.
MOD Pizza: Free pizza or salad. Dine-in only.
The Olive Garden: Free entree with proof of service.
On the Border: Free Choose 2 or Choose 3 combo.
Orange Leaf: Free frozen yogurt (up to 11 0z.).
Outback Steakhouse: Free Bloomin' Onion and a non-alcoholic beverage. Also receive 15% off your purchase from Nov. 12-Dec 31, 2015.
PDQ Tenders: PDQ Free 3 piece Tenders or Sandwich. PDQ also offers 50% off the entire order for all active/retired military personnel on the first Monday every month.
Perkin's Restaurant & Bakery: Free Magnificent Seven meal at participating. Beverage not included.
Pinnacle Entertainment (Casino Chain). Select locations are offering a free buffet meal.
Primanti Bros.: Free Sandwich from 4 p.m. to close.
Red Robin: Free Tavern Double burger with bottomless steak fries.
Rock & Brews: Free pulled-pork sandwich with a side.
Sammy's Woodfired Pizza & Grill: Free garlic cheese bread or hummus with grilled herb flatbread. Dine-in only.
Sheetz: Free lunch. Free car wash also available at participating locations.
Shoney's: Free All-American Burger.
Sizzler: Free lunch served until 4 p.m. Choice of 3 entrees, and a free coffee, tea, or fountain drink.
Smokey Bones Bar & Fire Grill: Free meal from special Veterans Day menu.
Starbucks: Free tall brewed coffee for active duty, veterans, and their spouses.
Tap House Grill: Free meal for service members and veterans with proof of service
Texas Roadhouse: Free lunch from special menu. Dine-in only.
TGI Friday's: Free lunch, 11 a.m. to 2 p.m.
Tony Roma's: Free half rack Baby Back Ribs at select Florida locations.
Travel Centers of America:> Free meal for CDL holders who are also veterans. Proof of service required.
Tubby's Sub Shops: Free small grilled steak n' cheese or Tubby's Famous sub. Take-out only.
Twin Peaks Restaurants: Free meal.
Village Inn: Free breakfast any time of day (choice of three menu items). Veterans will also receive a "Thank You for Your Service" card valid for 20% off their total bill on their next visit when they dine at Village Inn on Veterans Day.
Wienerschnitzel: Free hot dog & small soft drink.
In addition to the restaurants listed above offering free food, veterans may also receive the following "freebies" on Veterans Day*:
Free Car Wash: Visit GraceforVets.org for a list of participating car washes.
Free Haircut: Great Clips is offering a free haircut. Non-veterans can get a coupon to give to a veteran.
Free Haircut: Sport Clips is offering a free haircut.
Free Night at a B&BGet a free night's stay at a Bed & Breakfast on Veterans Day. Visit B&Bs for Vets to see a list of participating B&Bs.
Free Kindle Book: Operation Money: A Financial Guide for Military Service Members and Families by best-selling author, Jean Chatzky.
For more information on Veterans Day discounts, visit The Military Wallet.
*Discounts only valid at participating locations. For more information on participating locations near you, please click here...