Shipping Packages During the COVID-19 Pandemic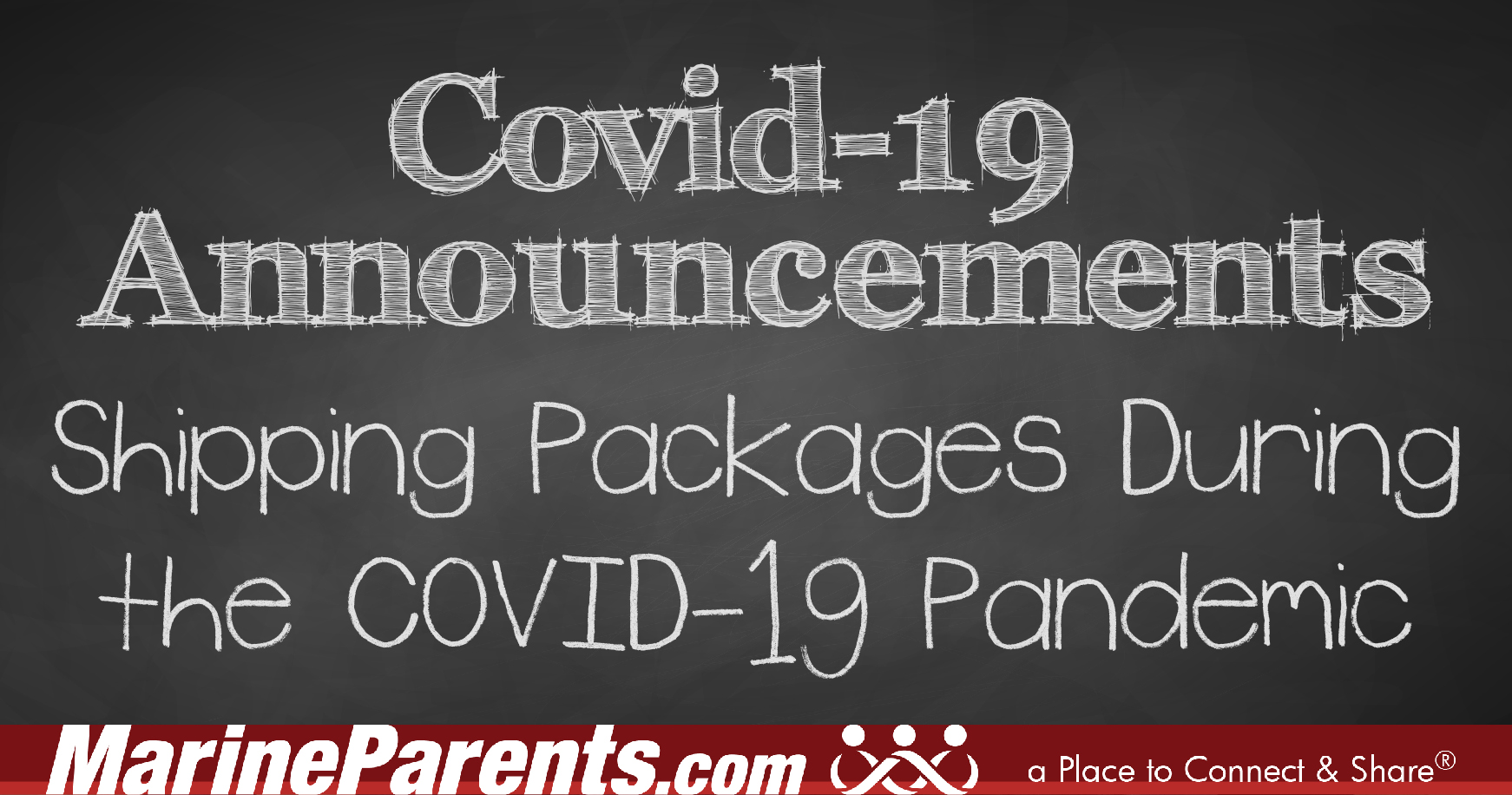 ---
COVID-19 Impact on USMC, Marines, and Family Members
RED ALERT BOX UPDATED 3/16/2020 5:15 PM
Information on this page is subject to ongoing and continual updates. Please use resource links provided for the most up-to-date information.
We will only share information that comes directly from the Department of Defense or US Marine Corps. Our sources for information will be Official Marine Corps social media pages, websites, and Base Public Affairs Offices. Visit the following links or pages for information:
DOD PDF REVISED 3/13/20 10:15 PM
See the FULL PAGE of details using the 2nd Gold Button in this red alert section for press releases from the DOD.
Travel restrictions from the DOD are changing continually during the pandemic. Please see 3rd Gold Button for travel FAQ from the DOD.
*** UPDATE: As of Sunday, March 22, 2020 at 1:51 PM, MCRD Parris Island has informed families of Kilo & November Company Marines that they may send a cell phone to their Marine beginning March 23. Please send them early this week if you choose to do so to ensure it arrives before they graduate and leave MCRD Parris Island. The Marines will not have unlimited access to their phones as they are still in a training environment. This is being allowed to ease the flow of communication as the new Marines transfer to SOI. MCRD Parris Island will continue to update their Facebook Page with notifications for when it is time for additional companies to have cell phones mailed.
The COVID-19 pandemic has changed so much in a short amount of time. It has certainly changed the way many people conduct their jobs and daily lives, and as we've seen, the Marine Corps is no exception.
Recently there have been some wonderful people who are requesting permission to send packages to recruits who are soon to graduate from both depots. The intent is to send civilian clothes, shoes, cell phones, etc. in anticipation of graduation.
MarineParents.com as an organization does NOT support this action. While this is a very thoughtful gesture and it sounds like a great idea on the front side, we must consider the overall impact on the Marine Corps and whether or not it's a true necessity for our new Marines.
We know all too well how overwhelmed the military mail room can be. The difficulty in safely sorting and delivering packages and mail has only become more complicated due to the COVID-19 pandemic.
The recruits are restricted when it comes to shopping at the Exchange (the store on the depots), but their focus should be on training anyway. However, the new Marines who have not yet graduated are able to shop at the Exchange on the Depot and can get anything they may need at that time. The Marines at SOI, MOS schools, and in the fleet can also shop at the Exchange on their respective bases.
As far as cell phones, at this time we suggest that you buy a phone card for them instead and tuck it inside a letter. You can copy the information for the card and keep it loaded with minutes for your Marine. Otherwise, we only recommend sending letters to your soon-to-graduate recruits in boot camp. Once they get to their next phase of training at the School of Infantry, your newly-minted Marine can give you additional instructions at that time for the possibility of shipping packages to them.
---