Special Note:
"Family and Marine Support Network" Teleconferences are offered every Thursday at 7pm CST. The topics rotate from PreDeployment Education, Deployment Support, and Return and Reunion. This is offered to IRR Family members (including parents!). For information or to register, call 800-255-5082 ext 3394.
The IRR consists of Reservists in the following categories. Most active duty Marines have an additional obligation of four years in the IRR:
A manpower pool comprise principally of trained individuals having served previously in the AC (Active Component) or in the RC (Reserve Component) who still have some Period of MSO (Military Service Obligation) remaining.
The IRR includes some personnel participating in officer training programs or in the Armed Forces Health Professions Scholarship Program (AFHPSP).
The IRR also includes members of the Delayed Entry Program (DEP); these are high school students preparing for bootcamp.
Also included in the IRR are those personnel who are awaiting IADT (initial active duty training)and are assigned to units but serving without pay.
Worlds Apart from Brent Altomare on Vimeo.


This video was produced by MOBCOM and is aimed at preparing families for the return of involuntarily deployed Marines.
On July 26, 2006, a presidential executive order was issued by the President to the Marine corps to access and involuntary order to active duty 2500 of the Marine Corps' IRR
On 08-23-06, an announcement was made by the Marine Corps to call to active duty members of the IRR. MARADMIN number: 297/06:
POLICY AND PROCEDURES FOR THE INVOLUNTARY (INVOL) ACTIVATION OF UP TO 2,500 MARINE INDIVIDUAL READY RESERVISTS (IRR) ISO GLOBAL WAR ON TERRORISM (GWOT).
The Official MARADMIN announcement can be found at the following link:
www.usmc.mil/maradmins/maradmin2000.nsf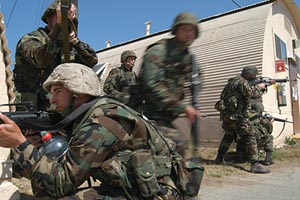 July 1, 2004 IRR Marines Photo, Courtesy USMC