Our next scheduled packing date for
The Care Package Project™
is November 1, 2008.
We've got a great lineup planned with the Marine Corps Birthday boxes to ship to our Marines in Iraq and Afghanistan this year, and we need your help with two things.
First of all, we need a "Happy Birthday" card for every box that we ship. That's 1000 cards we need from YOU, our Marine Corps families. We must receive them in our office by October 28 to be included in the care packages we'll ship on November 1. Please allow plenty of time for the cards to arrive to us at the following address:
MarineParents.com, Inc.
Attn: Happy Birthday Marine
PO Box 1115
Columbia, MO 65205-1115
The cards should be addressed to "Dear Marine" and include a personal, handwritten sentiment. If you will be sending several cards, you may put them in one large envelope to mail to us. Please do not seal the individual envelopes.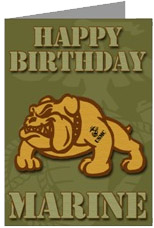 To order unique Marine Corps birthday cards from our Cafe Press online store, visit cafepress.com/marineparentinc/6010223. All proceeds go back to MarineParents.com, Inc.
Secondly, we need to raise $6000 to purchase content for the "Birthday Boxes". We will be including an olive green t-shirt, a Hormel Turkey Dinner (for Thanksgiving), and a birthday cake kit for each box. The cost will be approximately $6 per box. This cost is in addition to the funds we've already raised for shipping costs of $9850. Please help us meet our $6000 goal by November 1 for the Marine Corps Birthday Boxes!
Watch our Progress!

Goal Amount: $6,000 ~ Goal Date: November 1, 2008
Thus far: $1279 ~ Percentage reached as of October 21:

| | | | | | | | | | |
| --- | --- | --- | --- | --- | --- | --- | --- | --- | --- |
| 10% | 20% | 30% | 40% | 50% | 60% | 70% | 80% | 90% | 100% |
Please make checks payable to: MarineParents.com, Inc. and mail to:

MarineParents.com, Inc.
Attn: Birthday Boxes
P O Box 1115
Columbia, MO 65205-1115