UPDATE: Effective June 17, 2014, Capital One decided to discontinue the Card Lab Connect Program referenced below. Marine Parents Visa cards are no longer available with Capital One. However, cardholders can donate their rewards to MarineParents.com, Inc. at https://www.capitalone.com/give/.
Thankfully, you don't need a Capital One Visa to contribute to Marine Parents outreach programs! Make an online donation anytime; visit https://marineparentsinc.com/donation.asp.
Show Your Pride and Support with Every Purchase You Make
Get all of the competitive credit card benefits you want and expect as well as a simple way to support our cause. No matter which card you choose, you support all the outreach programs of Marine Parents with every swipe! We have three designs to choose from: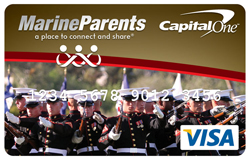 Marine Parents Visa
This card features Marines from the United States Marine Corps Silent Drill Platoon in their iconic dress blues. No other uniform inspires a greater sense of pride for Marines and their families.


Purple Heart Hero Support Visa
This card is not branch specific. Show your pride and unwavering support for injured Purple Heart Heroes and their families from all branches of our armed forces.



TEAM Marine Parents
You donít have to be an athlete to join this TEAM! Show that youíre part of the Marine Corps family and support TEAM Marine Parents with your Visa card! This card features a source of immeasurable pride from Marine Corps history Ė the raising of the American flag on Iwo Jima.
Capital One will donate $50 to Marine Parents after you make your first purchase as well as 2% of your gas and grocery store purchases and 1% of all other purchases! In the almost 4 years we've been a part of this program, we've received $33,298.39 worth of donations as a result of people using these cards.
With low introductory purchase rates and custom card designs, this is truly a unique opportunity to show your support and help spread the word as part of simple everyday events.
Click here to get your Marine Parents Visa Platinum card today!
*Marine Corps Silent Drill Platoon Photo by Cpl. Sarah Fiocco, March 8, 2012. Miramar, CA.