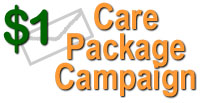 Click for 2009 Dollar Campaign
The post office has raised the prices for shipping flat rate boxes to $9.80 which increases our costs for shipping 1000 packages every 10 weeks significantly. Each summer, we find ourselves short on funds to send the care packages overseas to our Marines in August. Our total cost for shipping in August will be $9800. We need your help today!

Ways to Donate:
MarineParents.com, Inc. is an IRS approved 501(c)(3) public charity eligible to receive tax deductible donations.

EGA Shop:
Donate through our online store, the EGA Shop. Click here to donate through the EGA Shop
PayPal Online:
You can pay online securely using PayPal. Click the DONATE button below to get started.

Mail $1 in an envelope to:
MarineParents.com, Inc.
Attn: PHHS $1 Campaign
P.O. Box 1115
Columbia, MO 65205-1115
Check or Money Order:
Make checks payable to MarineParents.com, Inc. and mail to the same address above.
Call the Corporate Office
Monday - Friday
8:00 a.m. - 5:00 p.m.
Central Standard Time
(573) 449-2003
Our next scheduled packing date is August 23, 2008. We're asking every web site visitor to send a $1 bill to MarineParents.com to help us raise the funds needed to ship 1000 care packages to our Marines. Put a dollar bill in an envelope and mail it to the post office box below. Our goal is to raise $9800 by the packing date of Saturday, August 23, 2008.
Please help us fund the Care Packet Project™ and send your $1 donation today. Check back frequently to see how we're progressing! Thank you for your support of our Marines and the Care Packet Project™!
All cash donations of $10 or more will receive a receipt via US Mail. All credit card donations and check donations regardless of the amount will receive a receipt via email or US Mail. Please include your email address where applicable so we can send the receipts via email and save money on postage. We appreciate your help in keeping our costs low!

Watch our Progress!

$1 Campaign Goal Amount: $9,800 ~ Goal Date: Aug 23
Thus far: $10,907!! ~ Percentage exceeded as of August 1!!:

| | | | | | | | | | |
| --- | --- | --- | --- | --- | --- | --- | --- | --- | --- |
| 10% | 20% | 30% | 40% | 50% | 60% | 70% | 80% | 90% | 100% |
MAIL your $1 donation to:
MarineParents.com, Inc.
Attn: Care Package Campaign
P O Box 1115
Columbia, MO 65205-1115

If you prefer to write a check, please make checks payable to: MarineParents.com, Inc.
For results of our 2007 campaign, see: http://www.marineparents.com/usmc/donations-dollar-campaign.asp