My son carried three calling cards with him: SPAWAR, AT&T Global, and MCI. He used whichever one worked from whichever location he was deployed to, from the Middle East to the Pacific Islands. Your Marine has the ability to purchase phone cards wherever he/she may be stationed. If your Marine has asked you to purchase a card or you want to give calling card gift to deployed troops, the following will be helpful:
Calling Cards for Middle-East Deployment
Assurance that your Marine can call home while deployed to Iraq, Afghanistan or Kuwait is a critical component to your peace of mind during combat deployments. There are two types of calling cards that will work from Iraq and Kuwait. Your Marine's location will dictate which card to use. We recommend obtaining one of each.
AT&T Global Calling Card
The first is the AT&T Global calling card that can only be purchased through the military AAFES exhanges. We have a link on our web site that you can purchase directly from AAFES without needing a military I.D. The cost per minute is about 39 cents. These are regular land line phones at the AT&T call centers. These calling cards will work at most other overseas locations for all military personnel.
Click here for more information...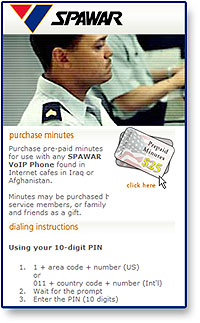 Segovia (SPAWAR) Calling Cards
The second is the Segovia or SPAWAR calling card that uses VOIP or "Voice Over IP" line which is essentially a computer connection. These can only be purchased by setting up an account with SPAWAR online. You can setup the account for your Marine. The cost per minute is about 4 cents.
Click here for more information...
We recommend purchasing one of each type of calling card or Iraq, Afghanistan and/or Kuwait deployed Marines. Charge it with the minimum requirement until you are sure which type of card your Marine will be using. Send the access number, instructions, and the PIN number from each card to your Marine through regular U.S. mail, or via email (if your Marine has access to email). Your Marine can re-charge both types of phone cards or by keeping the information for each of the cards, you can recharge the card for your Marine.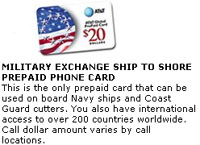 "Ship to Shore Calling Cards"
The AT&T "Ship to Shore" prepaid card is the only card that can be used to place calls via AT&T's Direct Ocean Services (DOS) and is available on most U.S. Navy ships. DOS allows for Sailors and Marines to stay in touch with family and friends while on deployment. This card can also be used to place calls ashore during port visits. Calling rates vary per country.
The price per minute to call from U.S. Navy ships via AT&T's Direct Ocean Services (DOS) to the United States is $0.50. Compared to other commercial ship to shore satellite calling the DOS rate is significantly less. Although this card can be used to make calls ashore during port call visits, the rates vary per country and are not priced as low as the Military Exchange 550 unit prepaid card.
We recommend one of each calling card for Marines aboard floats: a Ship to Shore and the AT&T Global so calls can be made both aboard the ship and while in port in overseas locations.
Click here buy or learn more...

List of AT&T Calling Centers Overseas
This includes all countries where AT&T has military call centers, from Afghanistan to Yemen. It also has the name of the bases in each country, what type of AT&T services are available, and sample dialing instructions.
Click here to learn more...
Recharging Calling Cards
If your Marine has a rechargeable calling card, ask for the toll free service number, account number, and PIN to call and recharge the card for him/her. Most calling cards have this information on the back of the card.
If you're having a hard time finding the right phone card to send, but want to help your Marine with the costs, volunteer to buy more minutes to re-charge his/her calling card.
When you buy a 500 minute calling card in the United States, and use it overseas, the rates will be higher overseas calling internationally, so you won't get nearly as many minutes. Don't expect 500 minutes from the calling card when calling international. Also note that rates vary from card to card, brand to brand, carrier to carrier.
Free Call Days
VFW Operation Uplink™ initially provided calling cards to deployed and hospitalized troops, but on Mother's Day 2006, due to the growing popularity of the program and thanks to the generosity of corporate donors like Sport Clips and United Auto Workers-General Motors, the program began hosting "Free Call Days."
Click here to learn more...