Snowcone Fundraiser for Travel Assistance
Snowcone fundraiser held by cousins of new Marine for MarineParents.com Travel Assistance Program
---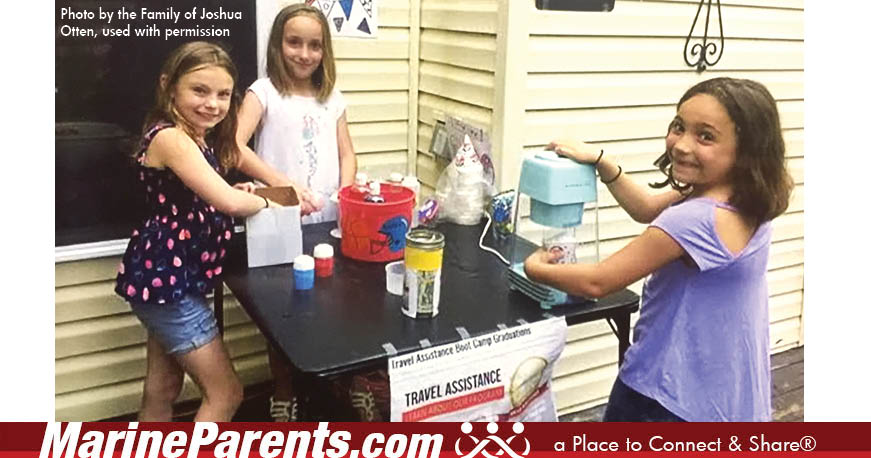 SNOWCONE MOTO!
Our MarineParents.com Travel Assistance Program has been in place for less than 18 months; in that amount of time, we've raised $191,000 and sent over 200 Marine parents and spouses to their newly-minted Marine's graduation. It is very MOTIVATING to know these Marines were not alone at graduation!
What could be more motivating than that? Well, how about three young cousins of a newly-minted Marine who recently held a snowcone fundraiser for the Travel Assistance program and raised over $100 for the cause. See their photo above. We want to extend our sincere appreciation to these young ladies for their hard work and commitment to service!
HOW YOU CAN HELP
Are you motivated by this story and the work these young ladies did to help with graduation travel? Make a donation to MPTA before the end of June 2019 and we'll tally the donations made, then notify this Marine's cousins that their story and efforts helped to raise additional funding for parents to travel to their Marine's graduation from boot camp. Let's try to raise an additional $1000 for their snowcone fundraiser!
MAKE YOUR DONATION
Choose a graduation class from the links below to support with Travel Assistance. We appreciate your help and support and can't wait to let this Marine's cousins know how they motivated all of us!
We share the photos and stories of families we have helped as the family members report back to us. Click here to view.