1st Marine Aircraft Wing (1st MAW)

Air Wings: 1st Marine Aircraft Wing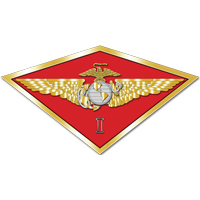 Unit Information
1st Marine Aircraft Wing is the Aviation Combat Element of the III Marine Expeditionary Force (III MEF) and supports the 3rd Marine Division. The brunt of the Wing's forces are located on the island of Okinawa, Japan. However, various subordinate commands are located on mainland Japan and Hawaii.
The mission of 1st Marine Aircraft Wing is to conduct air operations in support of the Fleet Marine Forces to include offensive air support, antiair warfare, assault support, aerial reconnaissance including active and passive electronic countermeasures (ECM), and control of aircraft and missiles. As a collateral function, the Wing may participate as an integral component of Naval Aviation in the execution of such other Navy functions as the Fleet Commander may direct.
1st MAW includes the following units/squadrons: MAG 12, MAG 24, MAG 36, MACG 18, MWSG 17, MWHS 1, and Marine Wing Liason at Kadena.
BASE LOCATION:
MCAS Futenma, Okinawa
OFFICIAL UNIT WEB SITE:
Click Here
Family Readiness Information
The primary source of unit/battalion information for spouses AND parents is the Deployment Readiness Coordinator (DRC) and Unit Hotline. The DRC will work with FR Assistants, FR Advisors and FR Volunteers along with the senior command members to make up the new Family Readiness Command Team.
Note: The DRC was formerly known as FRO and in some instances, the USMC Family Readiness Page has not been updated to reflect DRC rather than FRO.
FAMILY READINESS PAGE:
Click Here
DEPLOYLMENT READINESS COORDINATOR (DRC):
Frank Fay; Email: frank.w.fay@usmc.mil
DRC PHONE NUMBER:
From CONUS: 011-81-611-745-2959
Unit Hotline Number:

Hotline Extension:

1st Marine Aircraft Wing (1st MAW) Mailing Addresses

1st Marine Aircraft Wing
Marine Forces Pacific
Unit 37101
FPO AP 96603-7101

											
1st Marine Aircraft Wing (1st MAW) Postal Facility
If you need assistance finding a mailing address for a Marine, please contact the postal facility of the last known state-side duty station. The postal facility will not give out mailing addresses to non-family members. Family members need to be prepared to provide identifying information for their Marine. The following is contact information for the postal facility that handles 1st MAW mail:
Postal Facility Location

Postal Phone Number(s)

Information on 1st MAW last updated 9/28/2018 2:39:59 PM GMT.
Attention Unit DRC and/or Senior Command Elements of the 1st MAW:
To request changes to the 1st MAW Unit Information Page™, please contact the Marine Parents office at 573-449-2003 or via email mp@marineparents.com. Office staff will make the changes immediately.