4th Marine Logistics Group (4th MLG)
"In Omnia Paratus - Prepared for all things"
Marine Forces: Marine Forces Reserve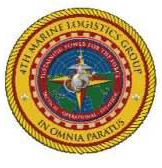 Unit Information
The mission of the 4th Marine Logistics Group is to provide general and direct support and sustained combat service support above the organic capabilities of the support element of Marine Air-Ground task force (MAGTF). These supported units may be in garrison, Combat, and/or in separate locations. The MLG will Support the MAGTF in amphibious assaults and subsequent operations ashore.
The 4th MLG is comprised of: Headquarters and Service Bn (Marietta, GA), 4th Supply Bn (Newport News, VA), 6th Communications Bn (Brooklyn, NY), 4th Landing Support Bn (Fort Lewis, WA), 6th Engineer Support Bn (Portland, OR), 4th Dental Bn (Marietta, GA), 4th Medical Bn (San Diego, CA), 4th Maintenance Bn (Charlotte, NC) and 6th Motor Transport Bn (Red Bank, NJ).
BASE LOCATION:
New Orleans, LA
OFFICIAL UNIT WEB SITE:
Click Here
Family Readiness Information
The primary source of unit/battalion information for spouses AND parents is the FRO (Family Readiness Officer) and Unit Hotline. The FRO will work with FR Assistants, FR Advisors and FR Volunteers along with the senior command members to make up the new Family Readiness Command Team.
FAMILY READINESS PAGE:
Click Here
FAMILY READINESS OFFICER (FRO):
No name listed
FRO PHONE NUMBER:
(504) 697-8153
Unit Hotline Number:

Hotline Extension:

4th Marine Logistics Group (4th MLG) Mailing Addresses

4th Marine Logistics Group
2000 Opelousas Avenue
New Orleans, LA  70114

											
4th Marine Logistics Group (4th MLG) Postal Facility
If you need assistance finding a mailing address for a Marine, please contact the postal facility of the last known state-side duty station. The postal facility will not give out mailing addresses to non-family members. Family members need to be prepared to provide identifying information for their Marine. The following is contact information for the postal facility that handles 4th MLG mail:
Postal Facility Location

Postal Phone Number(s)

Information on 4th MLG last updated 2/4/2014 8:13:36 AM GMT.
Attention Unit FRO and/or Senior Command Elements of the 4th MLG:
To request changes to the 4th MLG Unit Information Page™, please contact the Marine Parents office at 573-449-2003 or via email mp@marineparents.com. Office staff will make the changes immediately.