Assistance for Collins Family
The government may find it acceptable to abandon military families during times of tragedy, but we don't, and we know that many of you don't either. So please, help us do what the government won't as we try to ease the suffering of this Gold Star family.
On Saturday, October 5, 2013, Lance Cpl. Jeremiah M. Collins, Jr., 19, of Milwaukee, Wis., died while supporting combat operations in Helmand province, Afghanistan. He was assigned to Combat Logistics Regiment 2, 2nd Marine Logistics Group, II Marine Expeditionary Force, Camp Lejeune, N.C. LCpl. Collins' body arrived in Dover yesterday, October 7. Due to the shutdown, it is unclear if his parents will be able to meet their son's coffin in Dover. The funeral costs will be out of their own pockets. While the Marine Corps is providing the support they can, the government has essentially abandoned the Collins family, deeming their son worthy to fight for his country, to die for his country, but not worthy of having monetary assistance (as promised by contract) provided for his family until the government ends their childish standoff. We think this is an outrage.
With this in mind, we're asking you, the Marine Parents family to once again come together to help one of our own. We are aiming to raise $10,000 to send the Collins family to assist in this difficult time. Burying a child is every family's worst nightmare. In no way will $10,000 even begin to make up for what this family has lost. Money can't fill the void, it can't erase the pain and suffering, it can't bring back the dead. But it can help ease the burden on a grieving family as they struggle to figure out how to cope, how to move forward, what to do next.
*If, for some reason, another group/individual/organization steps in and provides money for airfare and funeral costs, all funds raised will go toward ongoing assistance needs as published in our new "assistance" section of the website (http://www.marineparents.com/assist/).
Update:10/10/13
On Tuesday, October 8, 2013 we asked you to help us raise money for the family of a Marine who died in Afghanistan last Saturday, October 5. At the time, military families were being denied "death gratuities," a $100,000 payment, guaranteed in every service member's contract, that family members use to ease the burden of funeral costs and travel fees to meet and transport the body.
Our goal was to raise $10,000 for the family of Lance Corporal Jeremiah Collins, 19, of Milwaukee, Wisconsin. Your response was overwhelming and more than we ever could have imagined. Thanks to your extreme generosity, we raised $10,000 in the first hour and almost $41,000 total (in just 30 hours). This is truly amazing, as well as a new donation record (both in terms of the total amount of money received as well as the speed in which the donations poured in).
Due to the amazing amount of support from you, the Marine Parents family, not only were we able to provide $10,000 for the Collins family, we will also be able to provide $10,000 to the family of U.S. Army Sergeant Joseph Peters, 24, of Springfield, Missouri, who died in Afghanistan last Sunday, October 6.
Fisher House, a charitable foundation best known for building comfort homes near military medical centers to allow the families of wounded, ill, and injured service members to be near their loved one during recovery, has stepped in and will be paying death gratuities to Gold Star families while the Federal Government is shut down. As a result, the remaining $20,000 from our recent fundraising initiative will be used to provide additional support and emergency assistance as/when other issues arise due to the shutdown, as we feel it's important to have a reserve for critical needs at this time.
Update:5/14/14
Thanks to your generosity, the Collins family was able to erect a memorial at Jeremiah's gravesite to honor him and keep his memory alive. Here are some pictures of that memorial: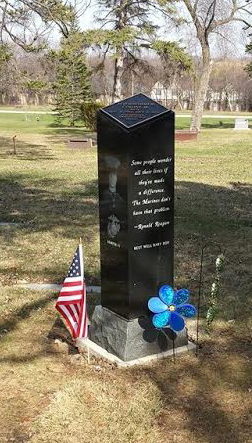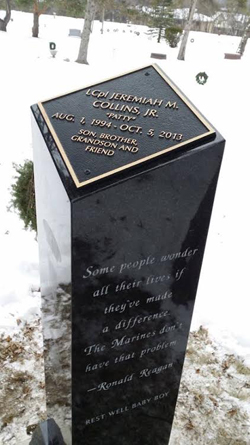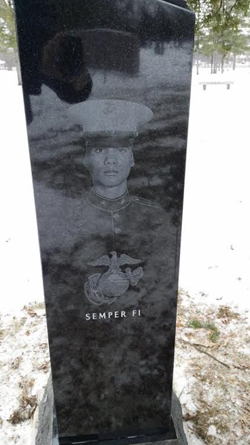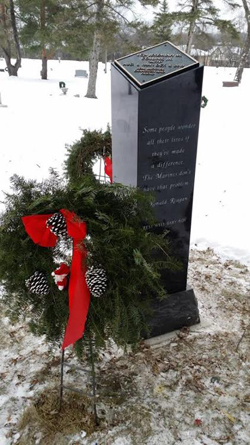 —Collins Memorial