Death Gratuities on Hold During Government Shutdown
One of the few certainties in life, aside from death and taxes, is uncertainty. No matter how you slice it, the world is an uncertain place. And, as anyone who has experienced deployments, extended training exercises, or a transfer to a new base can tell you, this simple fact is especially true in the military.
However, despite all the uncertainty that goes along with military life, there have traditionally been at least two things guaranteed to our service members:
a $100,000, non-taxable "death gratuity" for the survivors of a service member killed on duty or in training and
government-provided financial assistance for grieving family members to meet their loved one's flag-draped coffin as it arrives back in the United States at Dover Air Force Base in Delaware.
Through good times and bad, these two guarantees have provided assistance to, and helped ease the burden on, the families of our Fallen Heroes as they attempt to deal with their grief and try to rebuild their lives. No matter what, no matter who was in office, through boom times and recessions, these guarantees have provided certainty in an otherwise uncertain world. Until now.
Due to the recent government shutdown, "death gratuities" have been placed on hold. So has the government's willingness to provide assistance to family members trying to get to Dover to meet their loved one's body as it is brought off the plane. And, should the shutdown last into November, monthly survivor benefits will also be placed on hold due to the Department of Veterans Affairs' inability to pay them beyond this month. To the government, this may not seem like a big deal-a bump in the road to be ignored until one side or the other gets their way and this issue is resolved. These services don't impact the politicians personally and, as such, they were pushed to the side with little consideration for the people who this does impact personally-the families.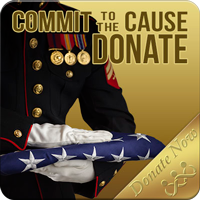 Ways to Donate:
MarineParents.com, Inc. is an IRS approved 501(c)(3) public charity eligible to receive tax deductible donations.
Donate Online:
Check or Money Order:
Make checks payable to MarineParents.com, Inc. and mail to:

MarineParents.com, Inc.
Attn: Family Assistance
PO Box 1115
Columbia, MO 65205-1115
Call the Corporate Office
Monday - Friday
8:00 a.m. - 5:00 p.m.
Central Standard Time
(573) 449-2003