Assistance for Peters Family
On Sunday, October 6, 2013, Army Sergeant Joseph Peters was one of four soldiers killed by a roadside bomb in Afghanistan. Peters, 24, of Springfield, Missouri, was assigned to the 5th Military Police Battalion in Vicenza, Italy, and was part of the Army's CID special operations unit, investigating felony-level crimes involving the Army. Sgt. Peters was the first CID special agent to be killed in Iraq or Afghanistan. He was posthumously awarded the Army's Combat Action Badge, a Bronze Star, and a Purple Heart and is survived by his wife and 20-month old son.
Due to the Federal Government shutdown, Sgt. Peters' family was initially denied the $100,000 "death gratuity" the families of all service members who are killed in action are entitled to. Fisher House, a private charitable organization, has since stepped in and provided the money to the family, but we also provided $10,000 to help ease the financial burden that you, the Marine Parents family, generously donated earlier this week to our assistance fund to help military families in times of crisis. While Peters was in the Army and not the Marines, we realize that the shutdown isn't branch-specific and neither is our desire to help military families in need. Thank you all for your generosity and for helping ease the pain, even if just a little bit, of the family of this American Hero.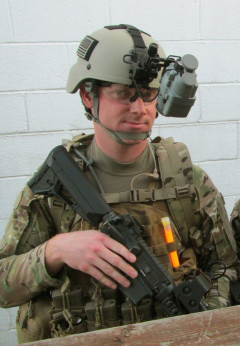 —An undated photo provided by the U.S. Army shows Army Sgt. Joseph M. Peters. Peters, 24, of Springfield, Mo., assigned to the 3rd Battalion, 75th Ranger Regiment, at Fort Benning, Ga., was one of four people killed Sunday, Oct. 6, 2013 by an improvised explosive device in Afghanistan.