Meet Peggy
a volunteer at MarineParents.com. Our volunteers work around the United States in a variety of capacities.
---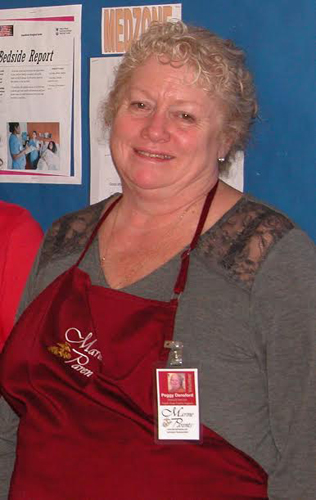 Peggy
Marine Parent and Volunteer
Peggy has been donating her time to Marine Parents with her husband for more than a decade, since she and her husband first discovered our organization in 2004 while their older son was deployed to Iraq. According to Peggy, she and her husband were frightened, and volunteering with what was then the Purple Heart Family Support program (now the Warrior Support Team) was "comforting," as it provided them with the opportunity to give back to our troops.
"At first it was knowing that we were offering some comfort to the families of wounded Marines and other service [members]," Peggy says. "Later we got to know wounded service personnel who were friends of our sons, who are both in the Marines, and we reached out to local service [members] who had been wounded. Each time I go to Bethesda, I leave feeling good about the work we do. My husband and I always felt we were 'paying in forward.'"
In addition to serving meals to recovering warriors, Peggy also volunteers her time in various other ways. "I try to contribute by doing things online [such as] ordering food and supplies," Peggy says. "I have been able to network with the women's group of my church, Patuxent Presbyterian Church. These women have been very supportive to our outreach, providing games for the children, puzzle books and story books."