Just over a year after the United States entered World War II, the United States Marine Corps authorized a Women's Reserve, becoming the last of the services to open its ranks to both genders.
When publicly announced in February 1943, the Corps had a goal of recruiting 1,000 female officers and 18,000 enlisted volunteers. By the end of the war, in 1945, there were 820 officers and 17,640 enlisted female Marines. These women served in non-combat roles, predominantly in clerical positions, although some were parachute riggers, mechanics, radio operators, welders and more, and none served farther west than Pearl Harbor, Hawaii. The Marine Corps Commandantat the time, General Alexander Vandegrift, said the presence of female Marines made it possible for the 6th Marine Division to be put to the field.
In 1948, women were integrated into the regular Marines, and in 1950 the Women Reserves mobilized for the Korean War. By the time the Vietnam War began in the 1960s, 2,700 female Marines were on active duty stateside and overseas. During this time, the Corps opened formal career training programs for officers and technical training for enlisted women. From 1975 onward, women could be assigned to all fields except infantry, artillery, armor, pilots, and air crews. In Operations Desert Shield and Desert Storm in 1990-1991, approximately 1,000 women Marines served overseas.
Margaret A. Brewer became the first female Marine general when she was promoted to brigadier general in 1978 and made the director of public affairs. Fifteen years later, in 1993, 2nd Lt. Sarah Deal became the first female Marine to be accepted into Naval aviation training. Five years later, in 1998, Carol A. Mutter became the first woman in any service branch to achieve three-star status when she was promoted to lieutenant general. Prior to the promotion, Mutter had been in command of the 3rd Force Service Support Group in Okinawa, the first woman to command a Fleet Marine Force unit at the flag level.
In 2002, 1st Lieutenant Vernice Armour became the first black female combat pilot in any service branch. As of 2006, women made up 4.3 percent of Marine officers and 5.1 percent of the Corps' active duty enlisted force.
Today, they are no longer referred to as "female Marines." They are, simply, Marines.
Sources:
The Marines; Marine Corps Heritage Foundation; Hugh Laughter Levin Associated, Inc.; 1998.
Marine Corps History Division; Web page http://www.tecom.usmc.mil/HD/Frequently_Requested/Women.htm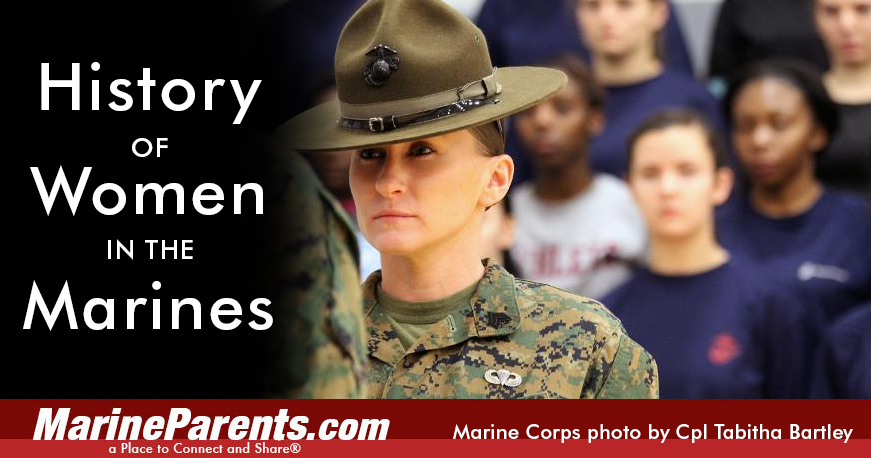 Sgt Stevie Cardona, drill instructor, Oscar Company, 4th Recruit Training Battalion, MCRD Parris Island, receives her Letter of Appreciation from Maj. Charles C. Nash, commanding officer, Marine Corps Recruiting Station Columbia for participating in the semiannual Female Pool Function at Fort Jackson Army Base on Jan. 24, 2015. Cardona came down from Parris Island to give the females a brief preview of what training would be like and to help prepare them to earn the title of United States Marines. (Photo by Cpl Tabitha Bartley.)