National Volunteer Week, established by an executive order from President Richard Nixon in 1974, and held annually every year since, begins April 12 and ends April 18 in 2015. During this week, volunteers around the country will be acknowledged, honored, and thanked for their devotion and dedication to others. For those who really took the volunteering cause to heart, part of the way in which they will be thanked is through the presentation of Presidential Service Awards.
Created by the President's Council on Service and Civic Participation in 2003, the Presidential Service Awards program is "a way to thank and honor Americans who, by their demonstrated commitment and example, inspire others to engage in volunteer service. The program continues as an initiative of the Corporation for National and Community Service (CNCS)", according to the official awards website. There are three "levels" of the award for yearly volunteering -- gold, silver, and bronze. The criteria for each level is as follows: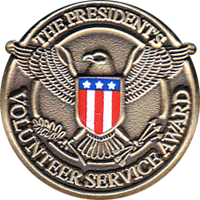 Bronze:
Children must contribute 50 to 74 hours of volunteering, young adults 100 to 174 hours, adults 100 to 249 hours, and families & groups 200 to 499 hours.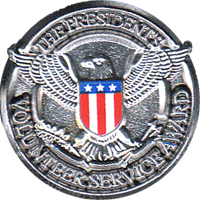 Silver:
Children must contribute 75 to 99 hours of volunteering, young adults 175 to 249 hours, adults 250 to 499 hours, and families & groups 500 to 999 hours.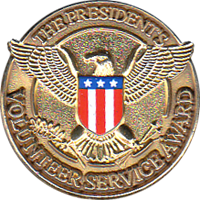 Gold:
Children must contribute 100 hours or more of volunteering, young adults 250 hours or more, adults 500 hours or more, and families & groups 1000 hours or more.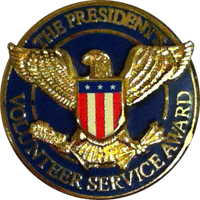 In addition to the yearly awards, in which all volunteering hours must have taken place in the previous 12 months, the Council also established the President's Call to Service Award, a lifetime achievement award for those who are truly devoted to the cause of volunteering, that is presented to anyone who has dedicated 4,000 hours (the equivalent of two years of full time work) to volunteering over the course of their life.

Here at Marine Parents, we're honored to present awards to our volunteers each year and have done so since 2005. In 2015, for hours volunteered in 2014, we presented 49 Presidential Service Awards: 2 lifetime, 7 gold, 12 silver, and 28 bronze awards.
Visit www.presidentialserviceawards.gov for more information.