Marine Families Come Together to Help Oklahoma Marines
This campaign ran from May, 2013 to July, 2013.
Being in the Marines teaches a person to adapt. To continue to fight through adversity and overcome difficult situations. To be flexible ("Semper Gumby"). As the saying famously goes, "Marines make do." But how do you make do when there's nothing left to make do with? That question is one that two Oklahoma Marines are
left trying to find an answer to after both lost everything in the series of violent storms that tore through the Oklahoma City area May 19th and 20th.
On the night of Sunday, May 19, a Gunnery Sergeant stationed in Mustang, Oklahoma, lost his house and belongings in a fire after the house was struck by lightning. Less than 24 hours later and a mere 20 miles to the east, a Sergeant stationed in Moore, Oklahoma lost everything after his house and both cars were destroyed in Monday's deadly tornado. Both are married with two children (the Gunnery Sergeant has two sons, ages 18 and 19, the Sergeant, a five-year-old daughter and a one-year-old son).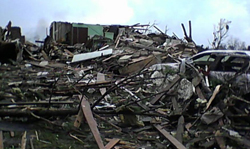 Photo of LCpl.'s house. His mother was inside at the time but was not seriously injured.
We'd already wired $1,000 to a Lance Corporal stationed at Twentynine Palms whose parents lost everything in the storm when, upon learning of the unfathomable predicament these two Marines are facing, MarineParents founder and executive director Tracy Della Vecchia immediately decided to launch "Operation Oklahoma Marines" to assist the two men and their families. To help these Marines and their families get back on their feet, we are hoping to raise $10,000 ($5,000 for each Marine).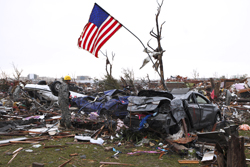 U.S. Army photo by Sgt. 1st Class Kendall James
100% of your donations will be going to these Marine families. Whether we raise $5,000, $10,000, or $20,000, 100% of the money will be going to these two families. Marines help Marines. Now it's time for Marine families to come together and do the same.
Additionally, we are exploring options for donated vehicles for the Sergeant who lost both of his in the tornado. If you have a vehicle you'd like to donate, or know of a program that might be able to assist us in obtaining one, please contact MarineParents Chief Development Officer Danielle Karalis at danielle@marineparents.com or by calling 573-449-2003.
We can't do this alone. We need your help!
To donate to Operation Oklahoma Marines, please click here and just follow the simple instructions. Every little bit helps. God bless and Semper Fi.
To learn about the Operation, click here...
To read the success story, click here...
For a message of thanks, click here...