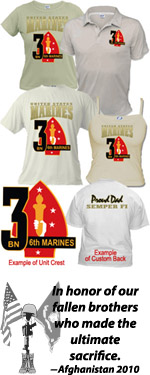 As we anxiously anticipate the homecoming of our Marines, the Marine Parents EGA Store offers a few different T-shirts you can purchase in celebration of their arrival.
Below you will find two design options and an opportunity to request gather folks together to request your own unique group design for homecoming day.
Click here for The EGA Store Units & Battalions section...
Pictured here is our battalion T-shirt with your Marine's unit crest on the front and optional customization on the back, such as "Proud Dad/Mom" or "Welcome Home [Your Marine's Name]."
We can use the same design and add "Welcome Home" below the Marines and Crest on the front. You can also choose either three lines of custom text OR the Fallen Hero tribute image on the back.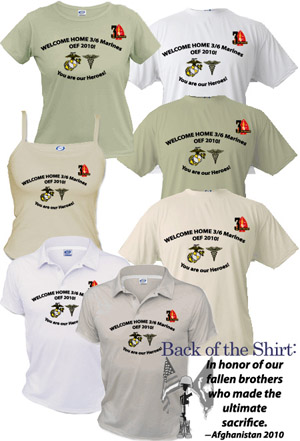 You can also make your homecoming T-shirt even more personalized by designing your own. Pictured here is a T-shirt designed by parents of unit 3/6.
If you have an idea for a design, we'd be happy to help you put that design on a T-shirt. Just email custom@marineparents.com with the subject line "My Homecoming T-shirt Design." Include your contact information and we will contact you to discuss the design. You must be purchasing at least 12 shirts in order to design your own.
Remember, 100% of the proceeds from The EGA Store benefit MarineParents.com, Inc. an IRS approved 501(c)(3) public charity.