Hispanic Heritage Month Feature—Christopher "Gus" Loria
Christopher Joseph "Gus" Loria is a retired Marine Corps Colonel and a medically-retired NASA astronaut.
Raised in Belmont, Massachusetts, Loria was born in 1960 and graduated from the United States Naval Academy with a Bachelor of Science degree in general engineering in 1983. Following his graduation, Loria received his commission and was designated a Naval Aviator in July of 1988.
After numerous assignments in the Corps, including a combat deployment in support of Operations Desert Shield and Desert Storm, Loria was selected by NASA in April of 1996 as an Astronaut Candidate, and that August he reported to the Johnson Space Center in Houston, Texas. After completing two years of training, Loria qualified for flight assignment as a shuttle pilot.
In 2002, Loria was assigned to pilot STS-113, a 14-day Space Shuttle mission to the International Space Station (ISS) flown by Space Shuttle Endeavour, but due to back injuries he sustained off-duty, Loria was medically grounded and had to be replaced by Paul S. Lockhart.
Following his medical disqualification from space flight exploration missions, Loria requested assignment back to the operational forces of the Marine Corps. After returning to the Corps, Loria served as the Inspector General for the 1st Marine Air Wing, Okinawa, Japan and served as the Director of Operations (J3) for Cheyenne Mountain Complex, North American Aerospace Defense Command (NORAD) before retiring from military service on December 1, 2008.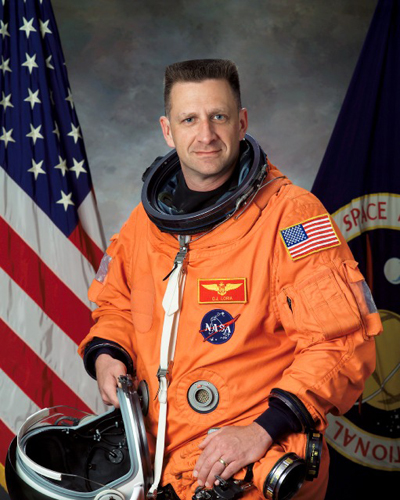 — Christopher Joseph "Gus" Loria's NASA photo (image released).