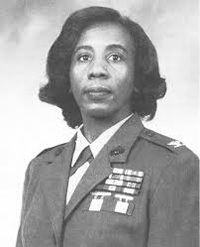 Colonel Gilda A. Jackson.
(USMC photo)
Gilda Jackson Becomes First African-American Female Marine Colonel
On October 1, 1997, Colonel Gilda A. Jackson, of Columbus, Ohio, became the first African-American female Marine to achieve the rank of Colonel during a ceremony at MCAS Cherry Point, North Carolina. Prior to her promotion, Jackson served as the Special Projects Officer of the 2nd Marine Aircraft Wing.