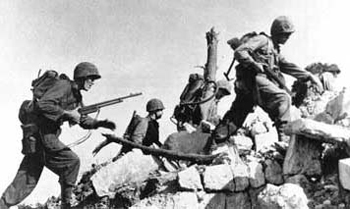 *Image info: A Marine assault team moves out on Okinawa in the Spring of 1945.
(USMC photo/released)
3rd Amphibious Corps Progresses on Okinawa
On April 3, 1945, Marines with the 3rd Amphibious Corps continued to progress along their front on the Japanese island of Okinawa, clearing Zampa Misaki and seizing the Kachin Peninsula. This effectively cut the island in two, and was accomplished more than a week ahead of the schedule originally set by Marine Corps leaders.