The Marine Corps, more so than any other branch of America's military, values and embraces its history. Beginning in boot camp, every Marine is educated on the Corps' proud and storied past as they learn what it means to be part of such a prestigious organization. In the spirit of the value the Marine Corps places on its history, we wanted to give you, Marine families and supporters, an opportunity to embrace and learn about this part of Marine Corps legacy as well.
Marines are known for being hard-chargers; for never giving up; for adapting and overcoming whatever obstacles they may face. Perhaps no Marine exemplified this willingness to take on, and prevail against, overwhelming odds better than Guy Gabaldon–"The Pied Piper of Saipan."
Early Life and Enlistment
Guy Louis Gabaldon was born in Los Angeles, California on March 22, 1926, one of seven children in a Mexican-American family. At the age of 12, Gabaldon moved in with the Nakano family, a Japanese-American family that he considered to behis extended family. While living with the Nakano family, Gabaldon attended Japanese language and culture classes with the family's children, eventually learning to speak "backstreet" Japanese.
After the Japanese bombed Pearl Harbor on December 7, 1941, the Nakano family, like most Japanese-American families living on the West Coast at the time, was sent to an internment camp. "I wanted to go to the internment camp with them, but they wouldn't let me," Gabaldon would later say. Instead, he moved to Alaska to work in a cannery. On March 22, 1943, Gabaldon's 17th birthday, he enlisted in the Marine Corps and was sent to Camp Pendleton for basic training. Gabaldon then attended the Enlisted Marine Japanese Language School at Camp Elliot in San Diego, and was assigned to Headquarters and Service Company, 2nd Marine Regiment, 2nd Marine Division, as a scout and observer.
Invasion of Saipan
As the Marine Corps island-hopped across the Pacific and closed in on Japan, military officials were faced with the dilema of whether or not to launch a land invasion of the Japanese home islands. Eventually, Amerian military officials decided against invading Japan, as it would cost an estimated one million American and countless more Japanese lives. Instead, the island of Saipan, located in the Northern Mariana Islands, was chosen as a base of operations on which airfields could be built to launch B-29 Superfortress bombers against the Japanese mainland.
On June 15, 1944, an American armada consisting of more than 500 ships carrying almost 130,000 American troops, including Marines from the 2nd and 4th Marine Divisions, began the invasion of Saipan against a force of more than 30,000 entrenched Japanese soldiers. To further complicate matters, Japanese soldiers, under the impression that they would be immediately executed by the Americans, rarely surrendered. Even as it became apparent that the Americans would eventually take the island, the Japanese soldiers were ordered by their commanding officers on Saipan to kill seven Americans for every Japanese soldier lost or to commit suicide rather than be captured or surrender.
The Pied Piper of Saipan
After arriving on Saipan, Gabaldon defied orders and left camp his first night on the island to try to capture Japanese soldiers. "The first night I was on Saipan, I went out on my own," Gabaldon would later say, "I always worked on my own, and [I] brought back two prisoners using my backstreet Japanese." For leaving his post without permission, Gabaldon was reprimanded by his superior officers and threatened with a court-martial. Despite the threat of disciplinary action, Gabaldon left his post again the following night for the same reason. This time, he approached a cave, shot two guards, and yelled in Japanese to the soldiers inside, "You're surrounded and have no choice but to surrender. Come out, and you will not be killed! I assure you will be well-treated. We do not want to kill you!" The soldiers exited the cave and the next morning Gabaldon returned to camp with 50 prisoners. As a result of his effectiveness, Gabaldon received permission from his commanding officer to act as a "lone wolf" operator.
On July 8, 1944, Gabaldon captured two more Japanese soldiers and was able to convince one of them to return to the cave they had been hiding in with an offer of surrender. A short time later, a Japanese officer arrived and, after speaking with Gabaldon, accepted his (Gabaldon's) terms, resulting in the surrender of more than 800 Japanese soldiers and civilians. For his actions, Gabaldon became known as "The Pied Piper of Saipan."
September 1, 2016
Written by: Collin Hoeferlin
Communications Specialist
MarineParents.com, Inc.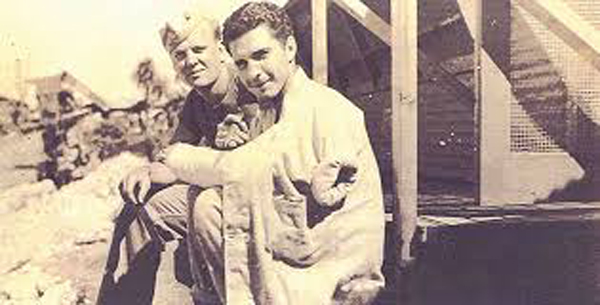 —Guy Gabaldon (right). (USMC photo/released).
Post-War Life and Legacy
After his time on Tinian, Gabaldon returned to Saipan, where he was seriously wounded in a machine gun ambush while fighting Japanese guerillas. As a result, Gabaldon received an Honorable Discharge from the Corps. After leaving the Corps, Gabaldon moved to Mexico and engaged in a number of business ventures before eventually returning to the United States. In 1957, Gabaldon's claim of capturing more than 1,500 individuals was verified on a national television program by Marines Corps intelligence officers Colonel Walter Layer, John Schwabe (who was a Colonel by that time), Major James High, and several enlisted men from military intelligence and in 1960, his Silver Star was upgraded to a Navy Cross. Also in 1960, a friend of Gabaldon's with connections in Hollywood convinced a studio, Allied Artists, to make "Hell to Eternity," a biopic about Gabaldon's time on Saipan. Gabaldon served as an adviser during the filming.
Over the course of his life, Gabaldon received numerous awards and recognitions, including resolutions honoring him from the City of Los Angeles, the City of Chicago, and the Commonwealth of Northern Marianas. In 2000, Gabaldon's rank was upgraded from private first class to corporal by then-General James L. Jones. In November of 2005, Gabaldon was the recipient of the Chesty Puller Award from the World War II Veterans Committee, an organization that showcases World War II veterans and their histories.
On August 31, 2006, Gabaldon died of heart disease in Old Town, Florida. He was buried with full military honors at Arlington National Cemetery and was survived by his second wife, Ohana, and nine of his eleven children.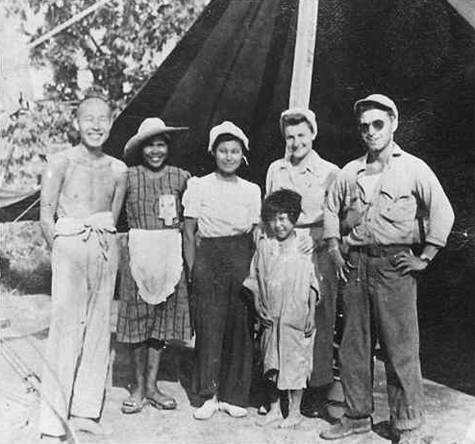 —Guy Gabaldon (right) poses in a group that includes Japanese prisoners in 1944. (USMC photo/released).
Tinian
After his time on Saipan, Gabaldon was then stationed on Tinian, also in the Mariana Islands, where he continued to capture Japanese soldiers and civilians. In total, Gabaldon claimed to have been responsible for the capture more than 1,500 individuals and his commanding officer, Captain John Schwabe, recommended him for the Medal of Honor, noting that Gabaldon single-handedly captured more than ten times as many prisoners as were captured by World War I Medal of Honor recipient Sergeant Alvin C. York. Despite Schwabe's recommendation, Gabaldon was awarded a Silver Star Medal.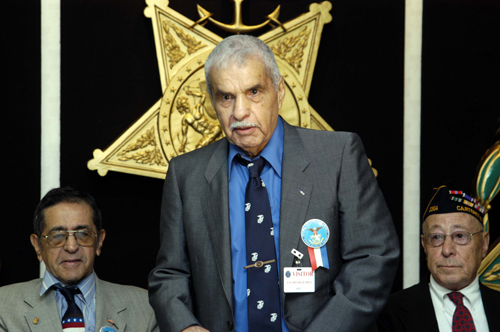 —Guy Gabaldon speaking at Pentagon ceremony honoring Hispanic World War II veterans, September 2004. (U.S. Army photo by Sergeant Adam R. Mancini).