The Marine Corps, more so than any other branch of America's military, values and embraces its history. Beginning in boot camp, every Marine is educated on the Corps' proud and storied past as they learn what it means to be part of such a prestigious organization. In the spirit of the value the Marine Corps places on its history, we wanted to give you, Marine families and supporters, an opportunity to embrace and learn about this part of Marine Corps legacy as well.
Background
August 21 marks an important day in Marine Corps history—the awarding of the first Medal of Honor to an African-American Marine, Private First Class James Anderson Jr.
PFC Anderson was born in 1947 in Los Angeles, California. After graduating from high school, PFC Anderson spent a year and a half at a Los Angeles-area junior college before enlisting in the Marines in early 1966.
After completing recruit training at MCRD San Diego, PFC Anderson was assigned to Camp Pendleton for further training before arriving in Viet Nam in December of 1966 to serve as a rifleman with the 2nd Platoon, Company F, 2nd Battalion, 3rd Marines, 3rd Marine Division.
Medal of Honor Action
On February 28, 1967, while on patrol outside of the village of Cam Lo, Quang Tri Province, PFC Anderson's platoon came under heavy enemy fire. During the ensuing firefight, an enemy grenade landed near PFC Anderson and a number of other Marines. PFC Anderson pulled the grenade to his chest, curled around it, and absorbed the majority of the blast with his body, heroically saving the lives of the Marines around him at the cost of his own.
Legacy
On August 21, 1968, Secretary of the Navy Paul R. Ignatius posthumously awarded the Medal of Honor to PFC James Anderson Jr. for heroism in Vietnam, the first time an African-American Marine received this medal (and one of only five African-American Marines to ever be awarded this medal). The award was received by his parents, Mr. and Mrs. James Anderson, Sr., at Marine Barracks 8th & I, in Washington D.C. This event was also notable in that it indicated the Marine Corps was evolving and that some of the long-standing prejudices within the Corps (namely those against minority Marines) were being eroded.
In 1983, the United States Navy acquired the Danish merchant ship Emma Maersk under a long-term charter. The ship was placed in service under the direction of the Military Sealift Command and renamed USNS PFC James Anderson Jr in honor of PFC Anderson. USNS PFC James Anderson Jr. was subsequently based at Diego Garcia in the Indian Ocean and carried equipment to support a Marine expeditionary brigade until 2009, when it was sold for scrapping.
In addition to the Medal of Honor, PFC Anderson's medals and decorations include: the Purple Heart, the National Defense Service Medal, the Vietnam Service Medal with one bronze star, the Vietnamese Military Merit Medal, the Vietnamese Gallantry Cross with Palm, and the Republic of Vietnam Campaign Medal.
August 15, 2013
Written by: Collin Hoeferlin
Communications Specialist
MarineParents.com, Inc.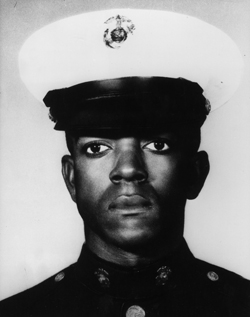 —PFC James Anderson Jr. (USMC photo/released).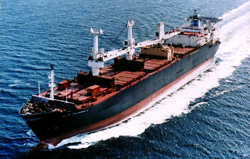 —USNS PFC James Anderson Jr.
(U.S. government photo/released).